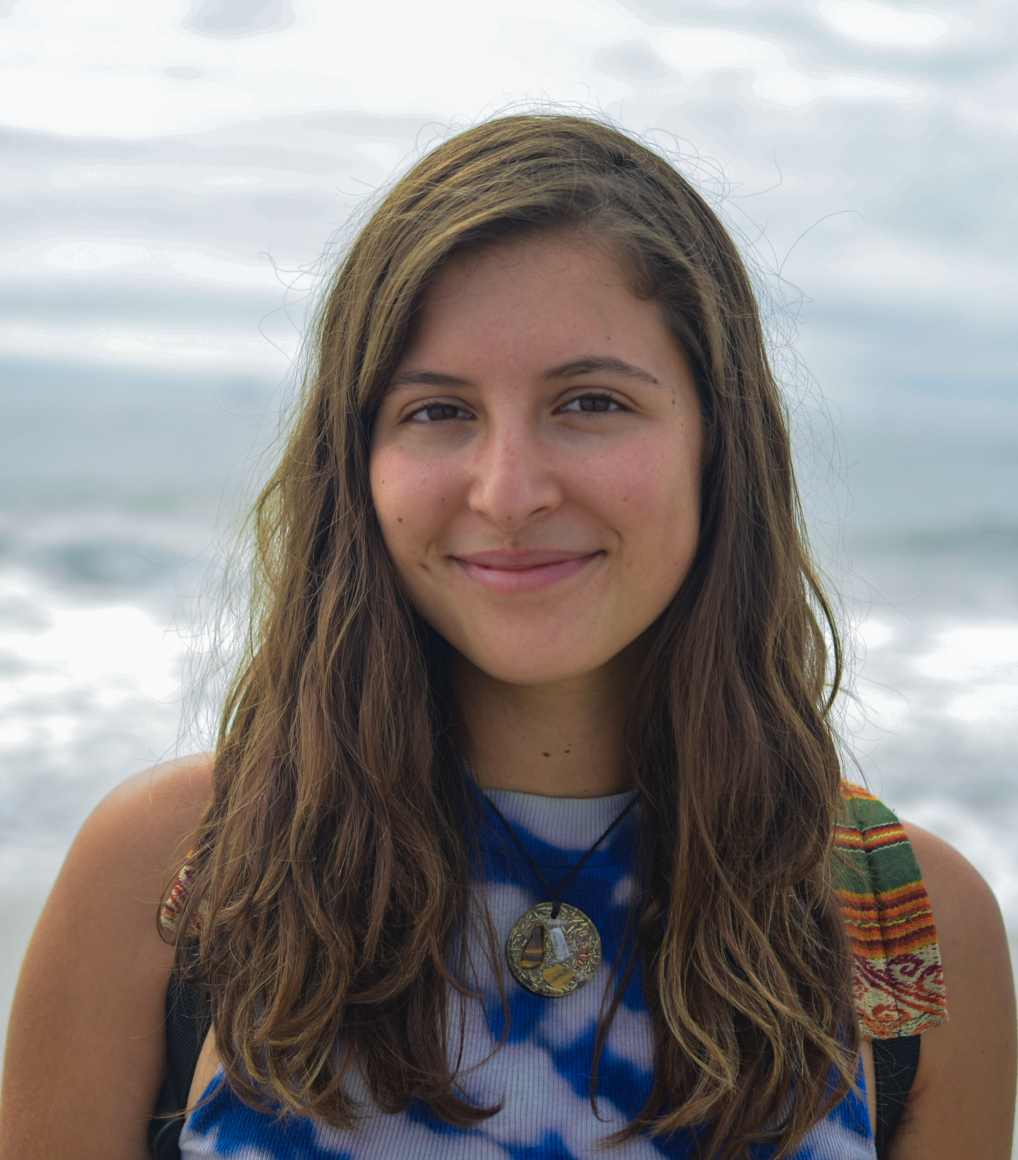 Nicole Cambria
UX Designer + Researcher
Sol Control
Reimagining the Meditation Experience During a Stay at Home Order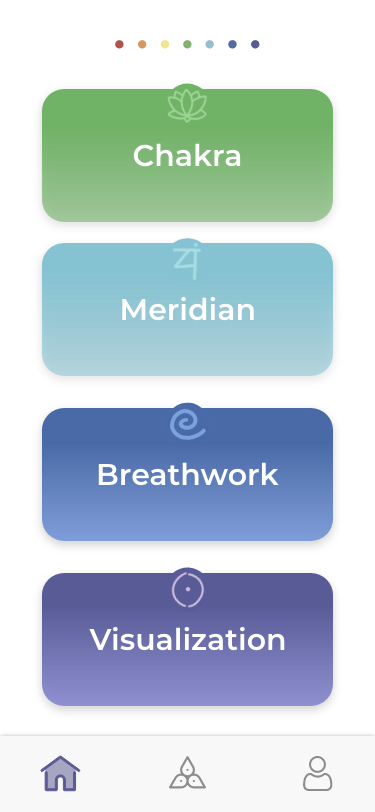 Sol Control is an augmented reality, projection mapping app utilized by meditation practitioners at all levels to expand their practice during the stay-at-home order.
Role All aspects of research, design thinking and development.
Research Methodologies Competitive benchmarking, surveys, interviews, focus groups, ethnographic research, task walkthroughs, moderated usability tests.
Project Length 6 months
Tools Procreate, Adobe XD, Adobe Aero, Adobe Sketch, Adobe Illustrator, Adobe Photoshop, Adobe InDesign, and Adobe Dimension.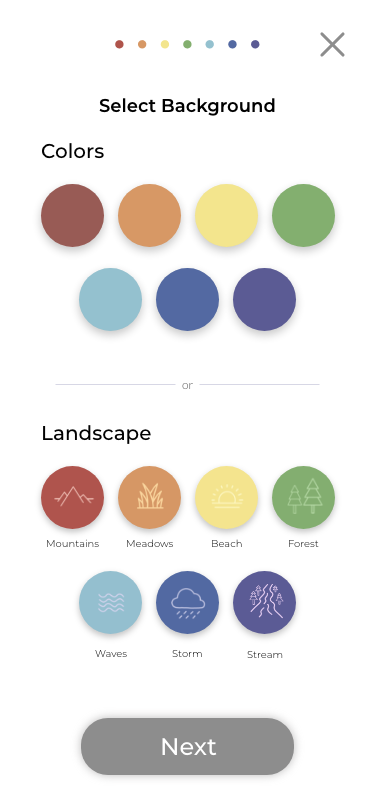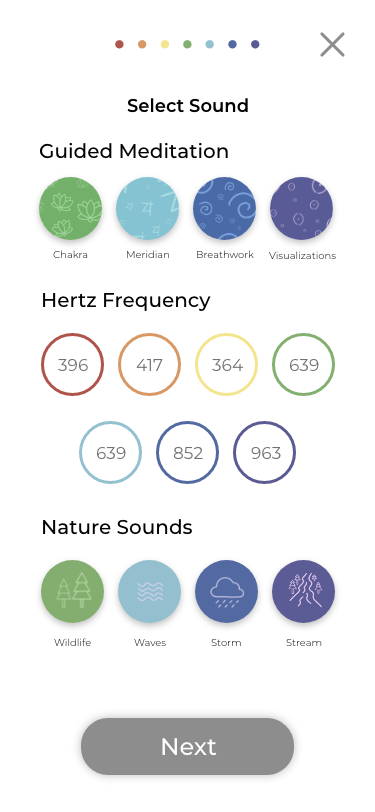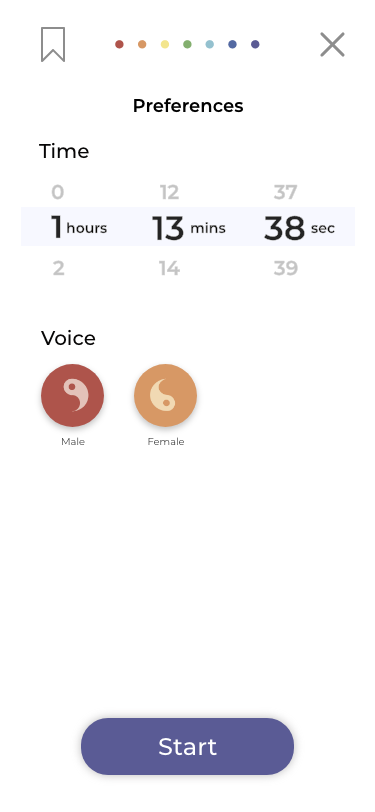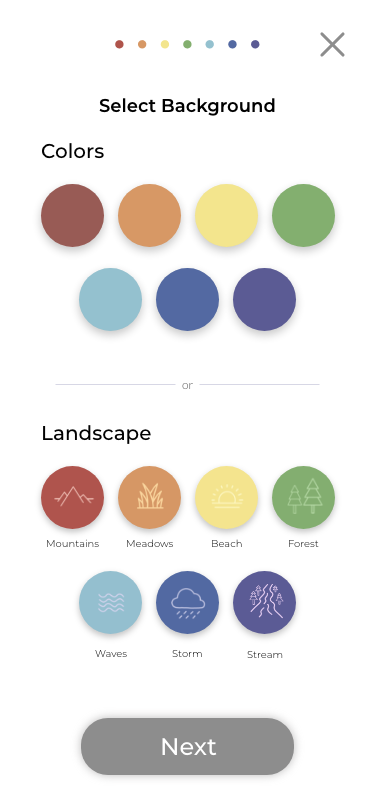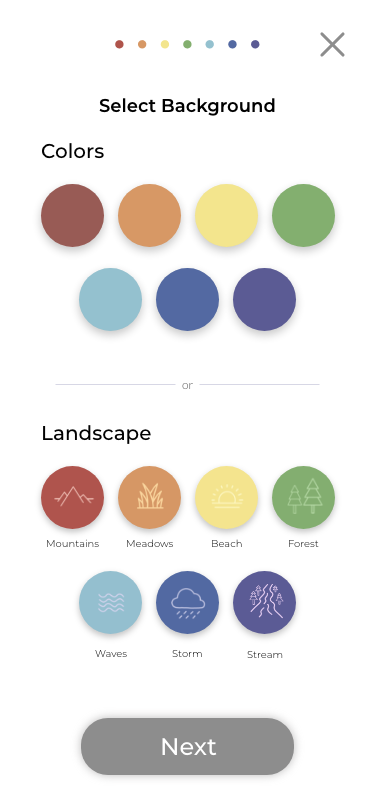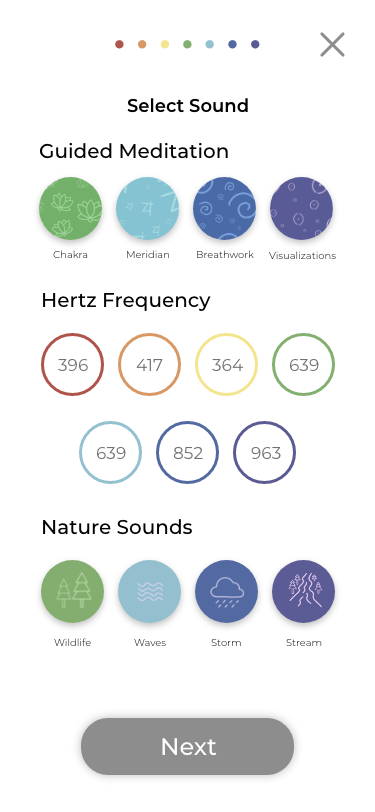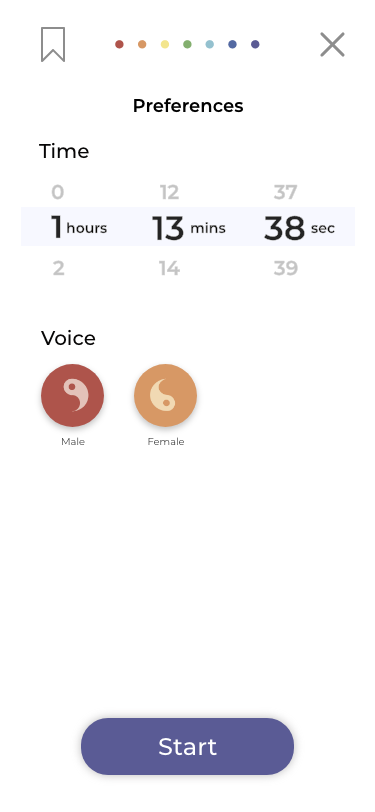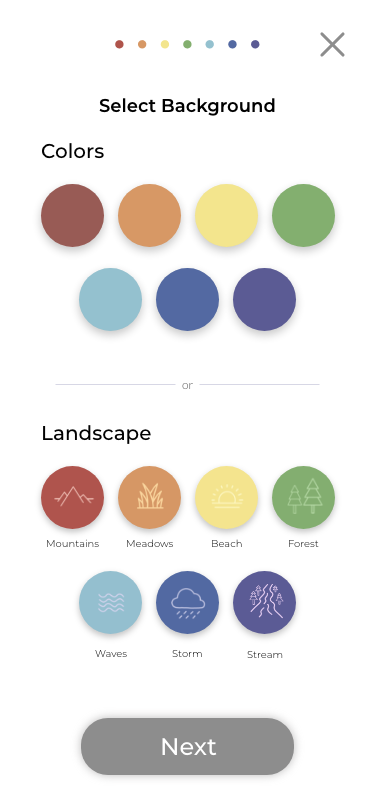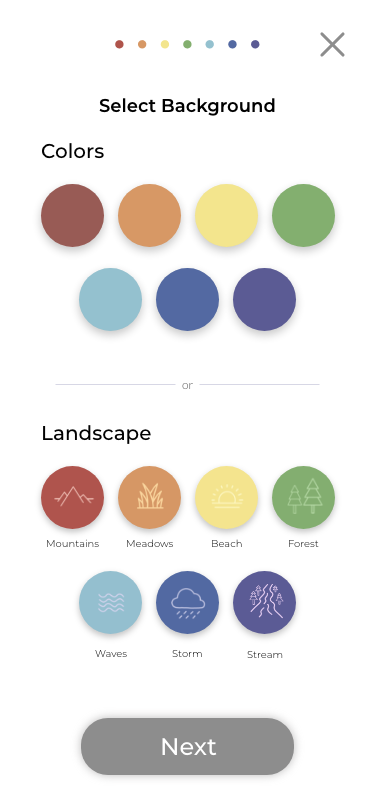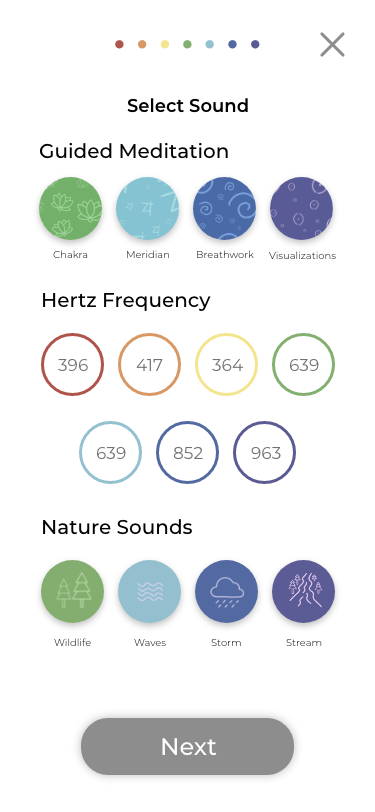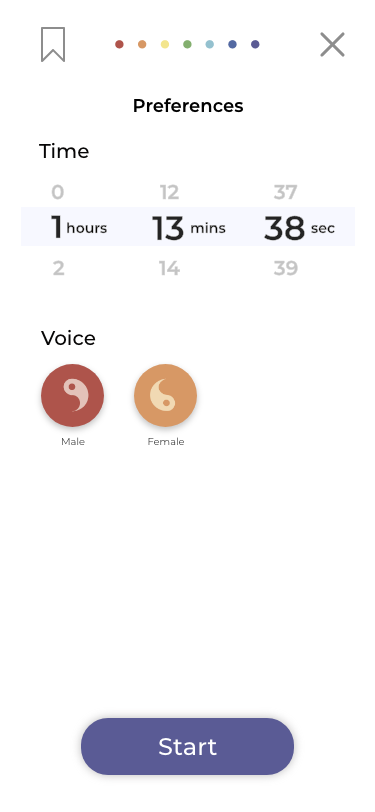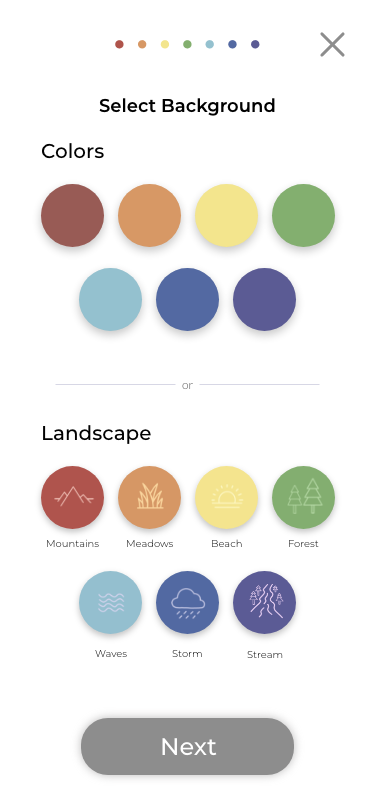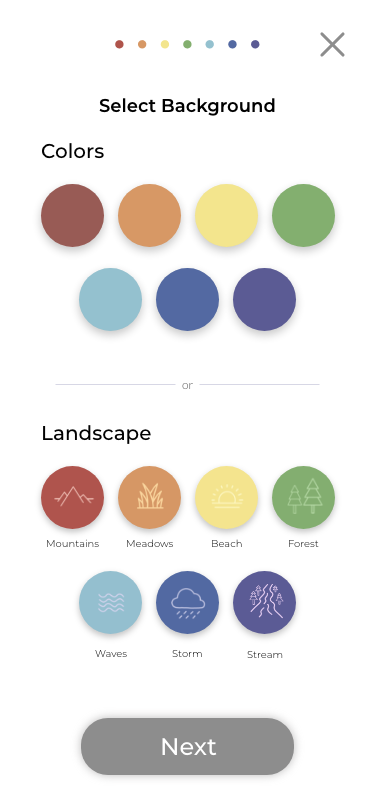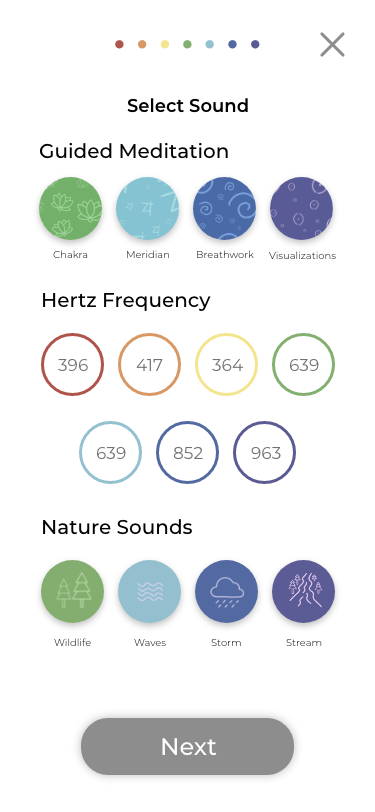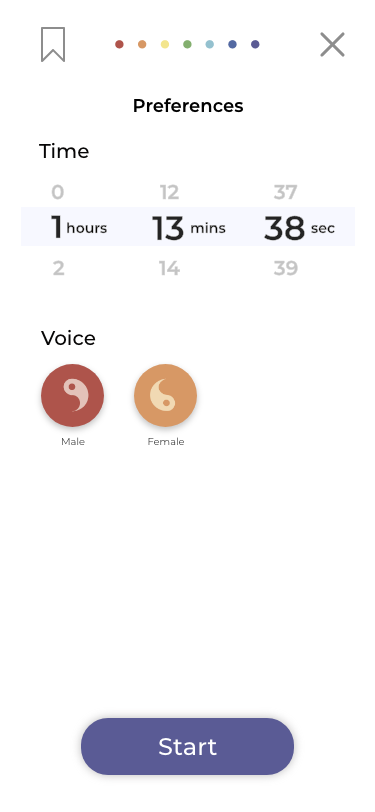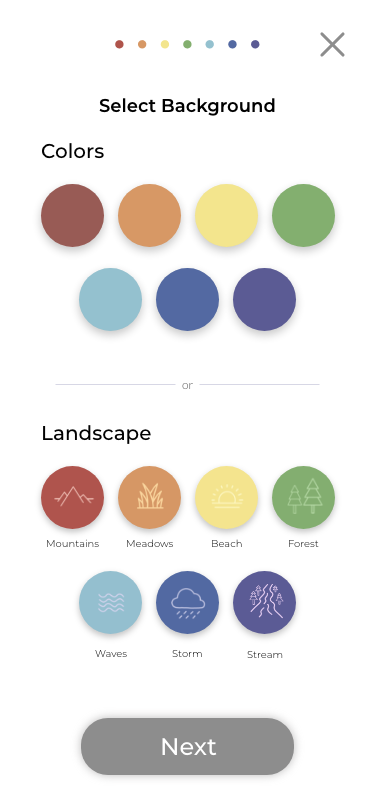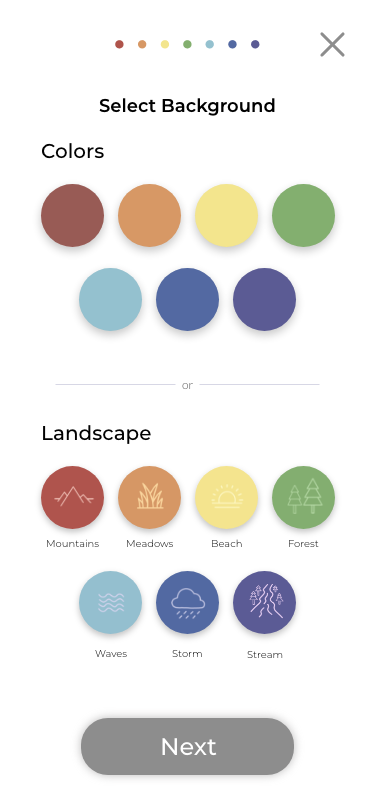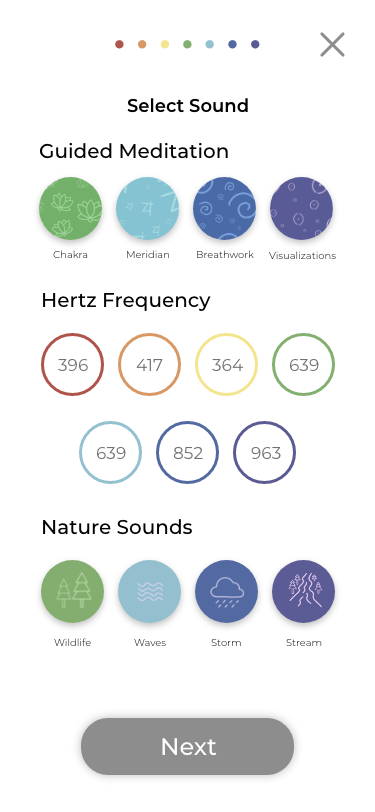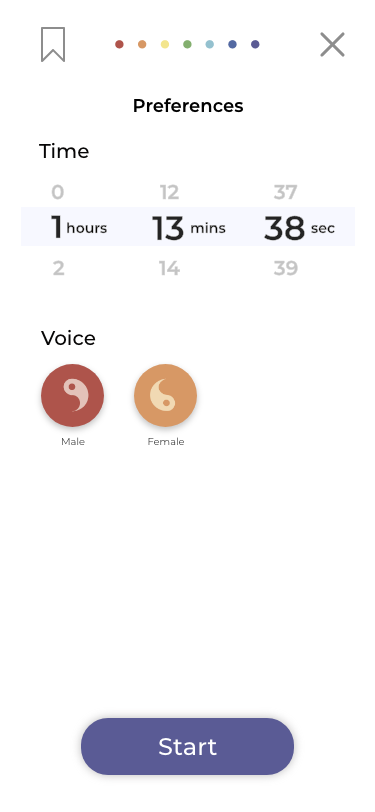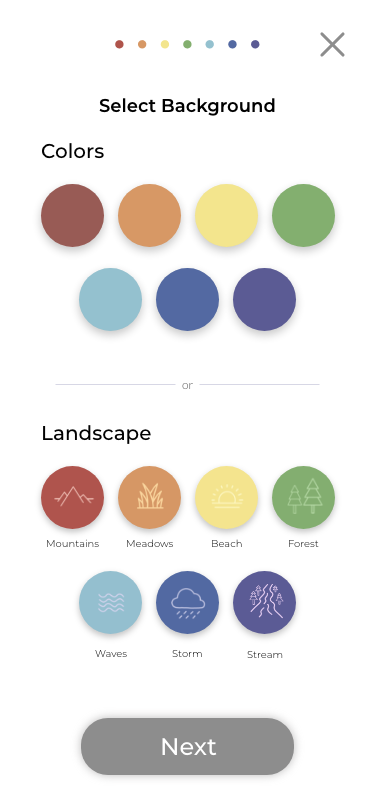 Problem Statement
How might we create a digital solution to help reduce college students' stress during the COVID-19 stay-at-home order?
Understanding How Students are Feeling
For many, college is the first experience of independent time management. If college students do not learn healthy coping mechanisms for dealing with stress, these patterns repeat into adulthood.
41% of humans on the planet are of college age, 18 to 24 years old. College student stress statistics show that 85% of college students experienced increased stress and anxiety during the COVID-19 pandemic. (College Student Stress Statistics, 2021)
It has become increasingly difficult to take care of mental health due to high amounts of stressors. Many students feel burned out or physically sick. This occurs when they are physically, emotionally, and mentally overwhelmed and exhausted.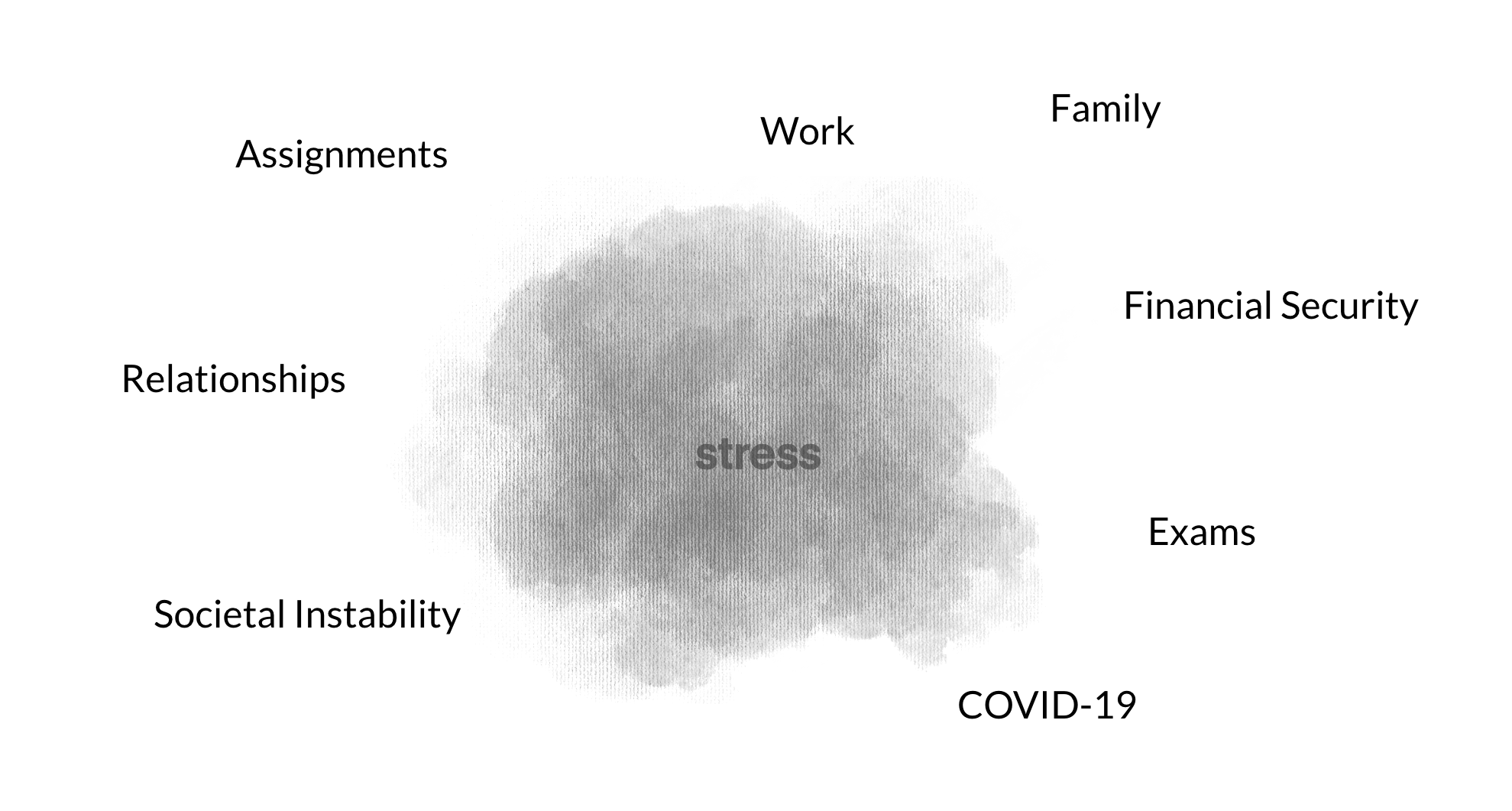 Project Timeline (6 Months)
Phase 1: Current state research/gather new research (2 months)
Phase 1.1: COVID Redefine (2 weeks)
Phase 2: Define target personas (1 month)
Phase 3: Ideate and develop (3 months)


My first focus was to understand the current state of the health and wellness industry. I referred to scholarly articles to gather my initial research. The study that stuck out to me was the effects of meditation on college students' stress levels.
Michiyo Ando performed a study on 71 college students to see if mindfulness meditation when implemented into the students' lives, would help them cope with the stress.
For 7 weeks, twice a week the students were exposed to a 90-minute relaxation class.

These studies show improvements in stress levels in students and help them make school more manageable. (Vidic, Cherup 2019)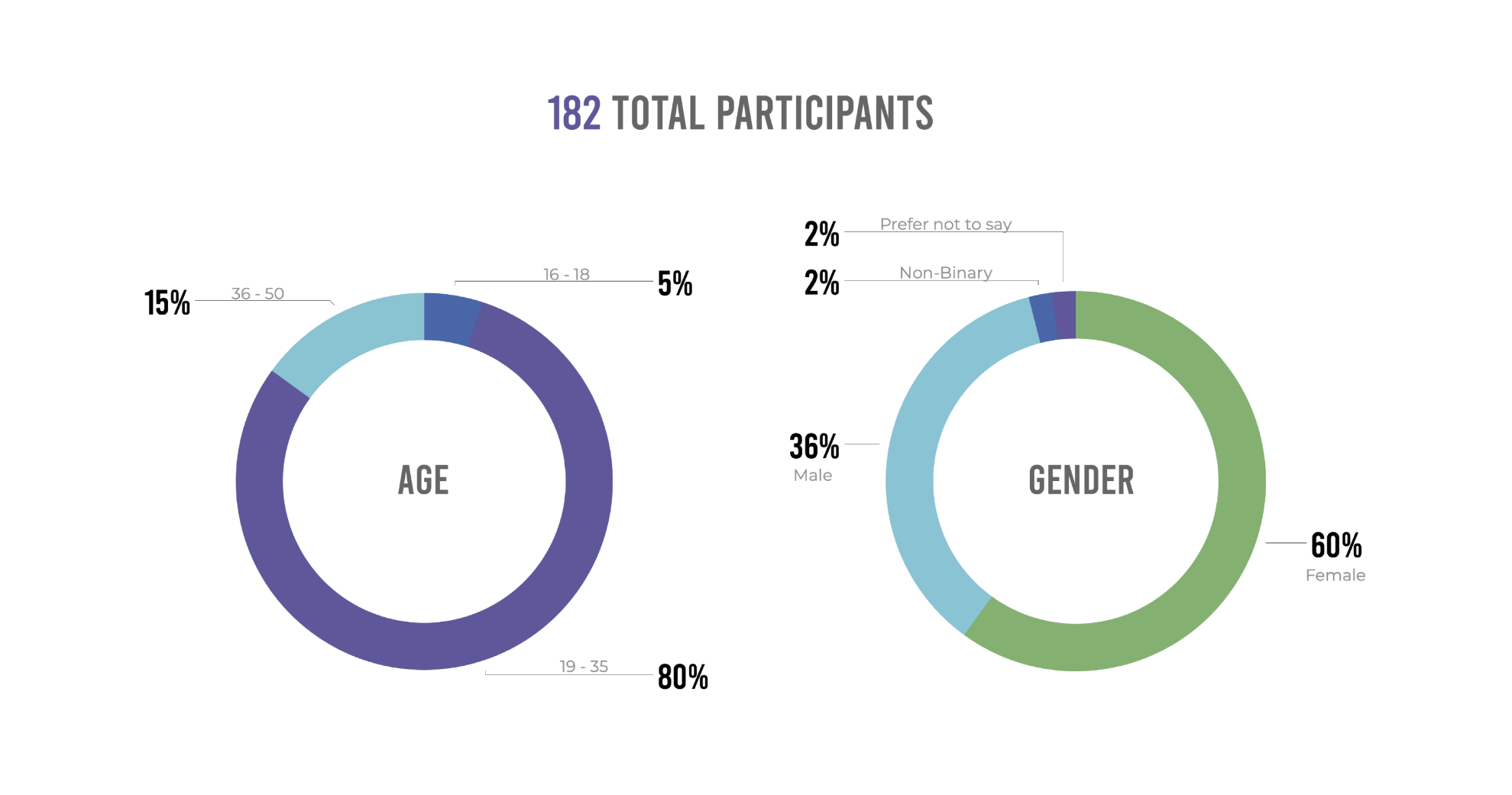 Initial Survey To Define The Problem
I began using quantitative research methods. The first survey revolved around gathering a consensus on participants' mental well-being regarding college stressors.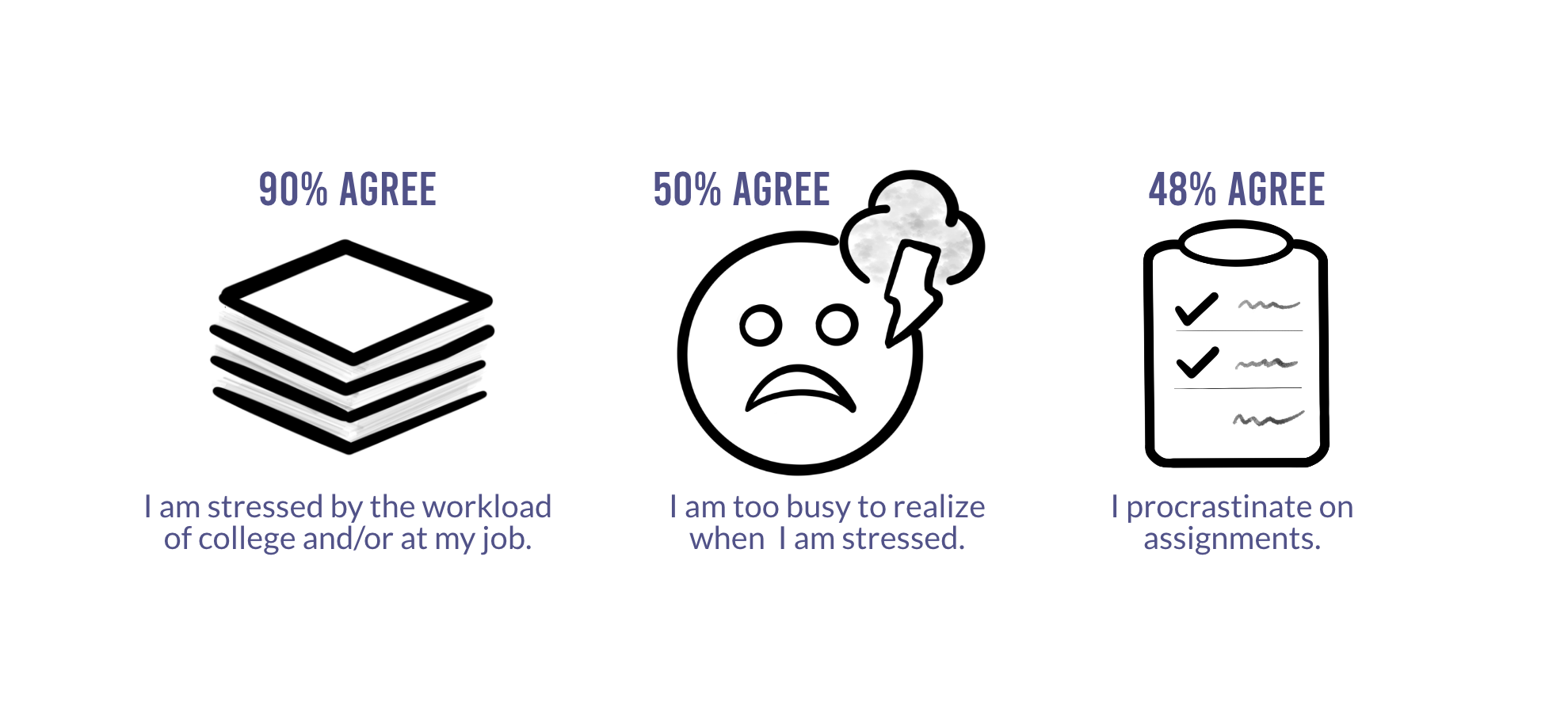 Follow-Up Survey
After reviewing the data from the previous survey, I had more questions to figure out how participants deal with their stress.
I framed the questions in three sections of activities and aspects, helping to guide me in framing the qualitative research: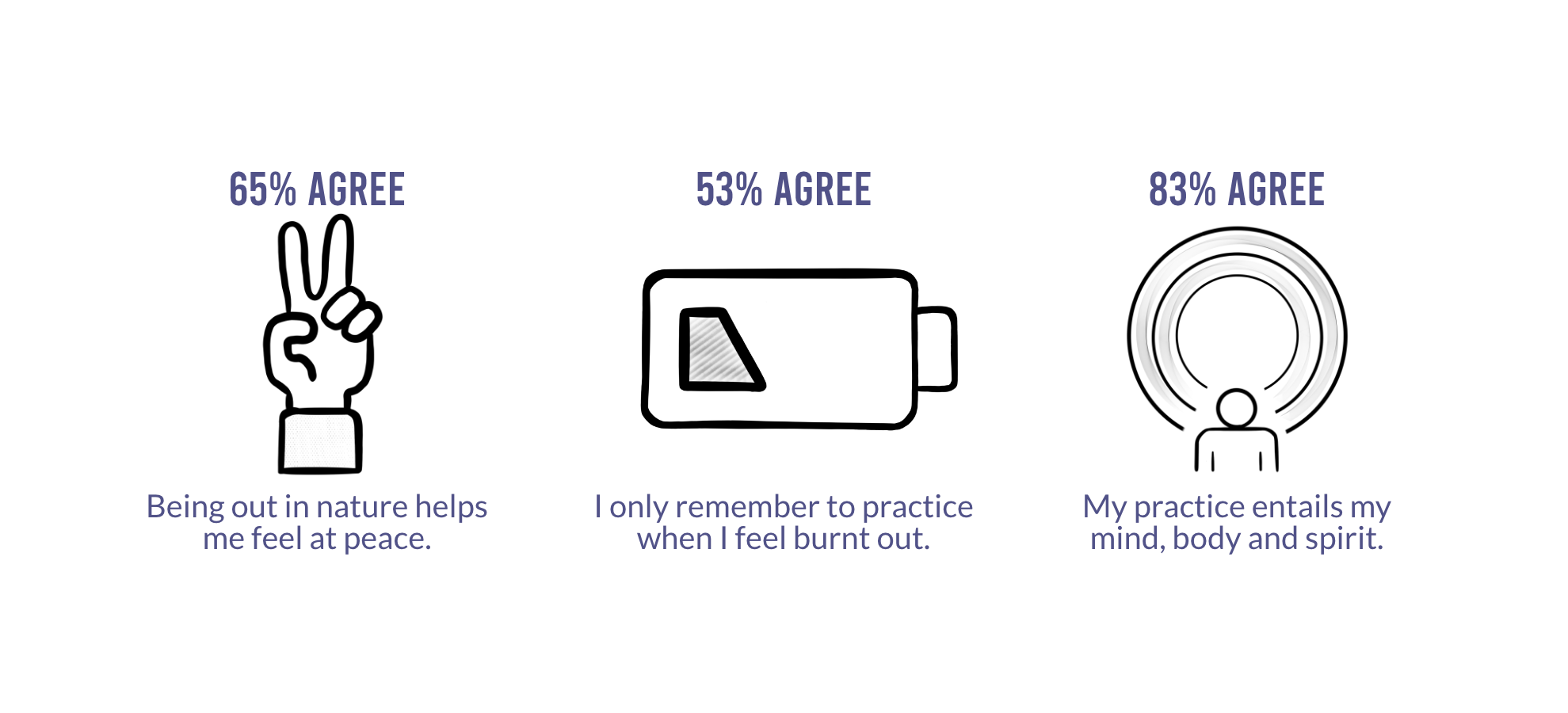 Interviews
I set to interview 20 participants that practiced mindfulness. I intentionally selected interview participants to gather data from five beginner, ten intermediate and five advanced participants.
My interview goals:
When they know they need to destress

How consistent they are

Learn about their mindfulness practices and what they are currently doing to destress

Do they go somewhere?

A person, place, or thing?

Listen to something?

Watch something?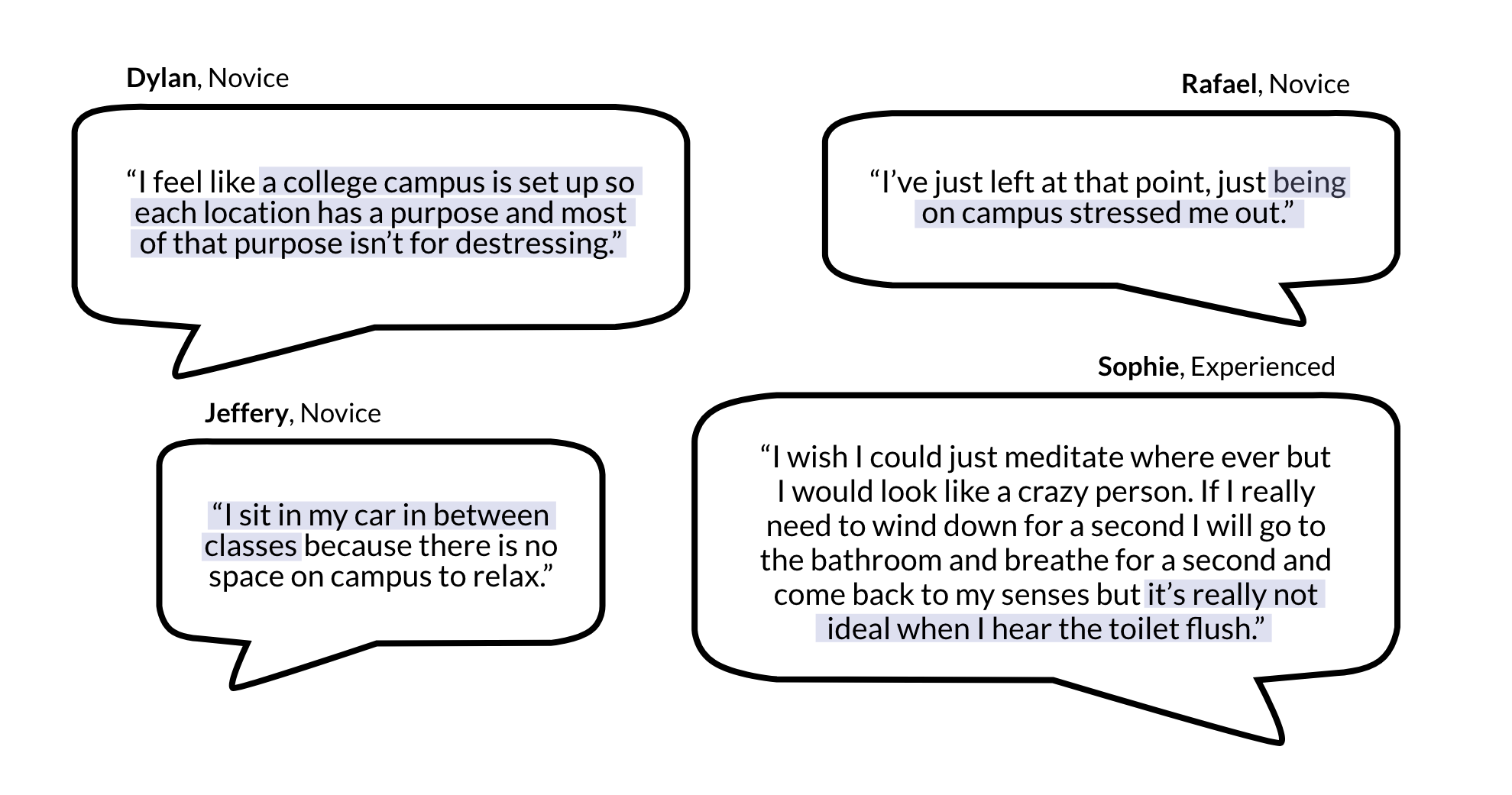 I posed the questions:
Can you tell me about a time when you needed to destress on campus?
What did you do?
Where did you go?
Interview Insights: Physical Space & Association
I began to explore this connection with physical space and association. I was met with thousands of articles and studies on the importance of clean and intentional desk space for optimal productivity.
Marcia Ramsland, a Business Productivity Expert explains, "It comes down to setting yourself up for personal success each and every day. Establish solid foundations of personal organization, and you will see your time multiplied in your daily work."
Applying this knowledge, I wanted to dive deeper into how to create this space for a mindfulness meditation practice within a college campus.
Focus Group
My next step was conducting a focus group of eight individuals to have an open conversation on stress, coping skills, sounds and physical settings help to calm them. I recruited people for this study from my universities Facebook page.
The data collected would help to shape the direction of the peaceful experience my solution needed to entail.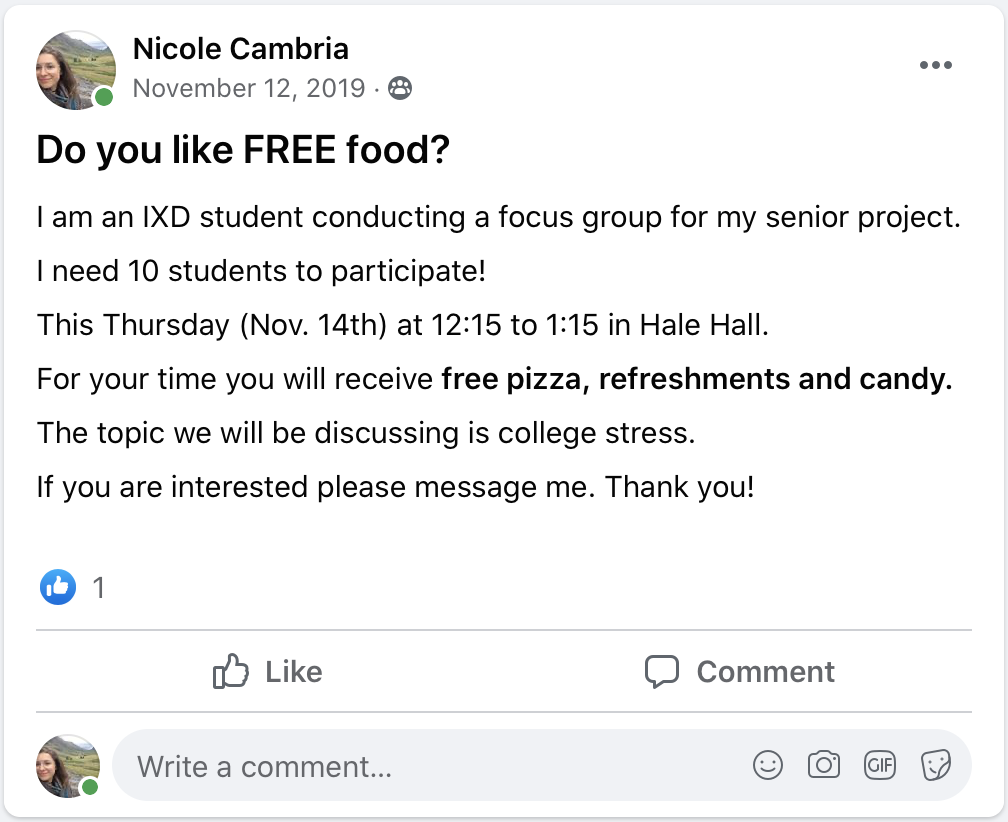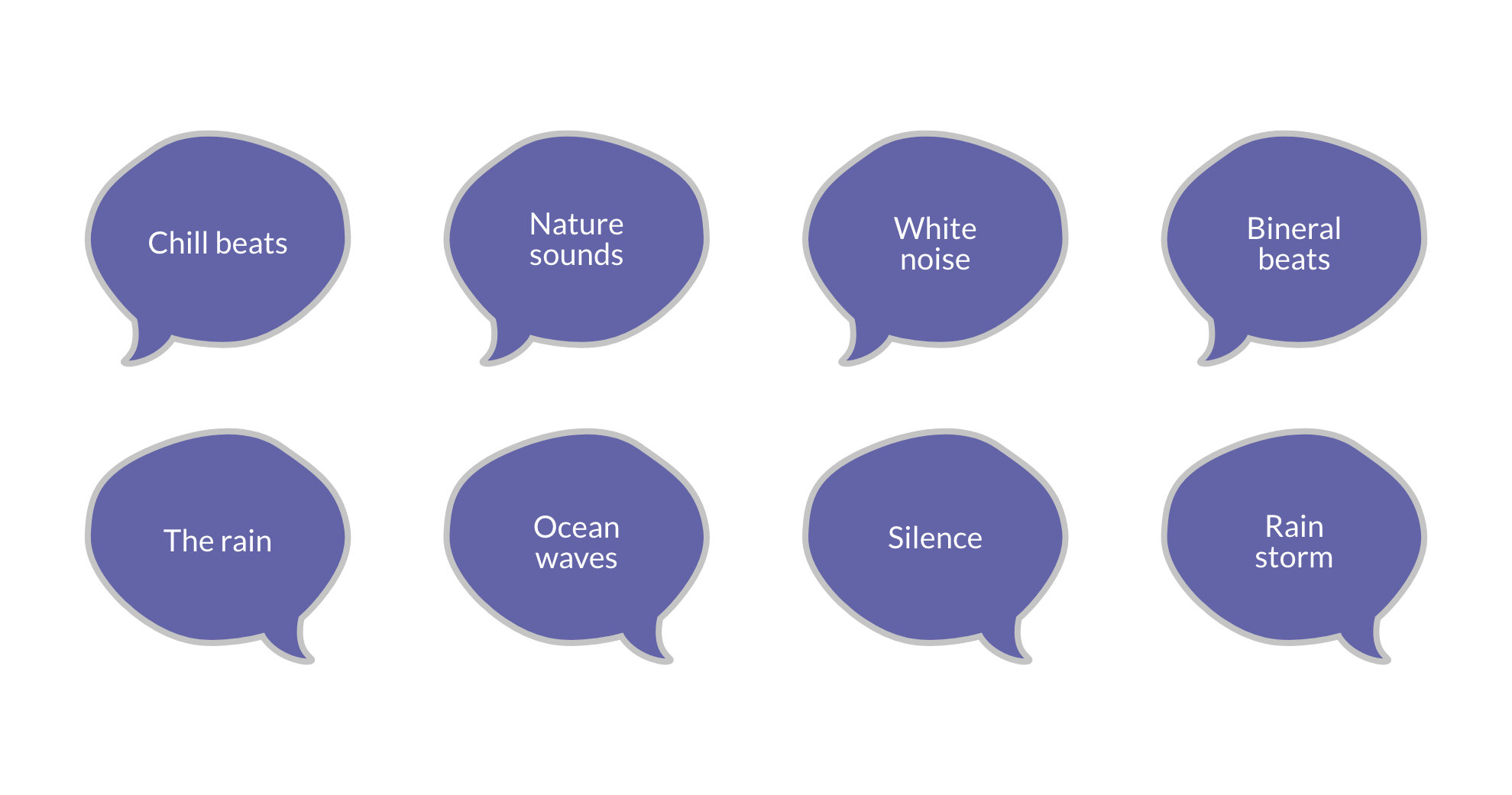 I posed the question:
Tell me about some of the things you listen to that helps you feel at peace.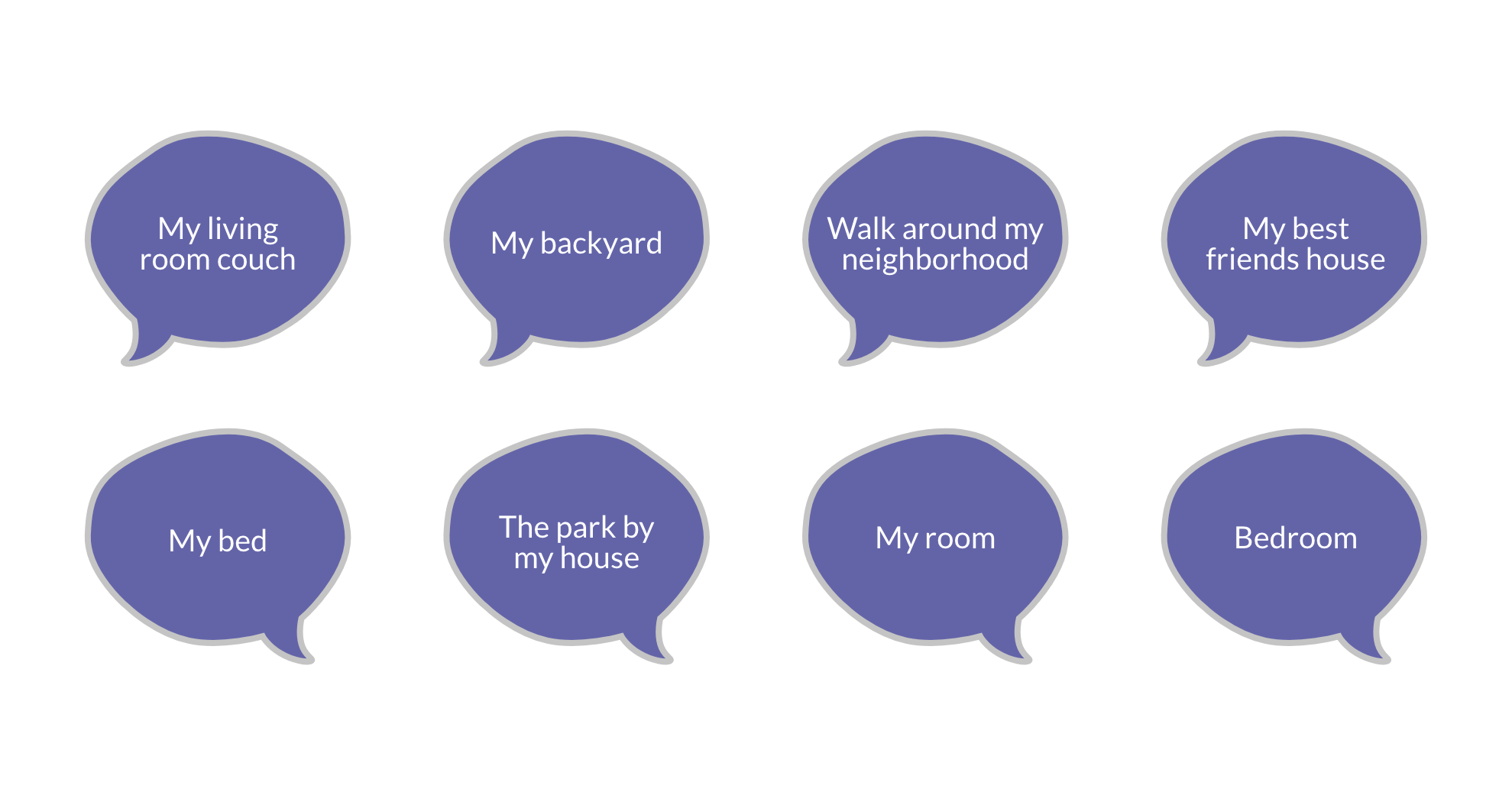 I posed the question:
What is your ideal place to relax?
Ideation Testing
The research guided me towards heavily focusing on creating a new space, in-person on campus for students to meditate.
Before classes switched to remote learning, I sketched what the space would look like. The solution was to use projection mapping technology on campus to create a customizable meditation experience in designated rooms on college campuses. The outcomes of how the space would interact with the user would determine the features of the app.
The personas and project evolved after collecting a final round of research after the stay-at-home order due to COVID-19 went into effect.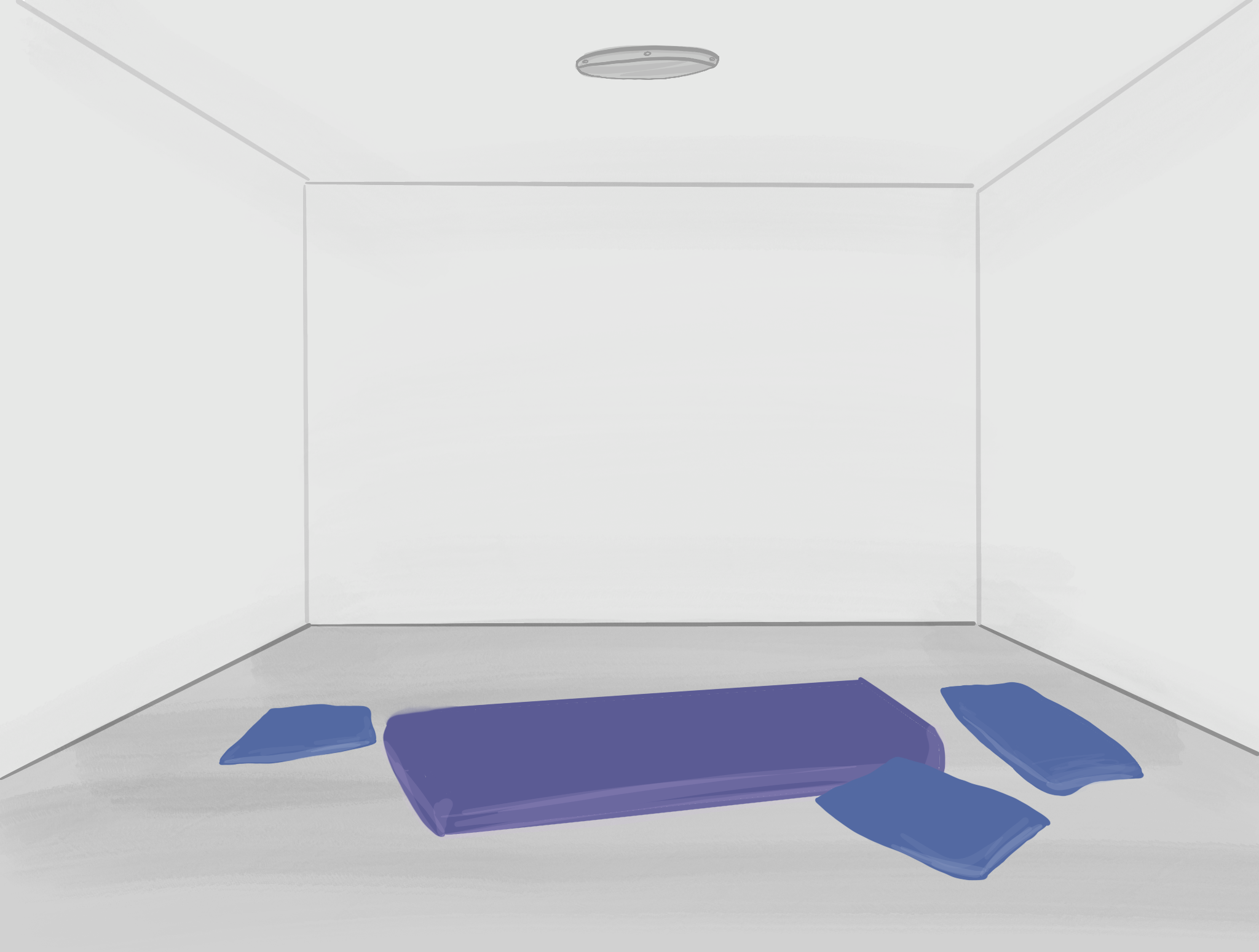 Original Ideation Sketches
The user enters Sol Control and sits down on the mat and bolsters.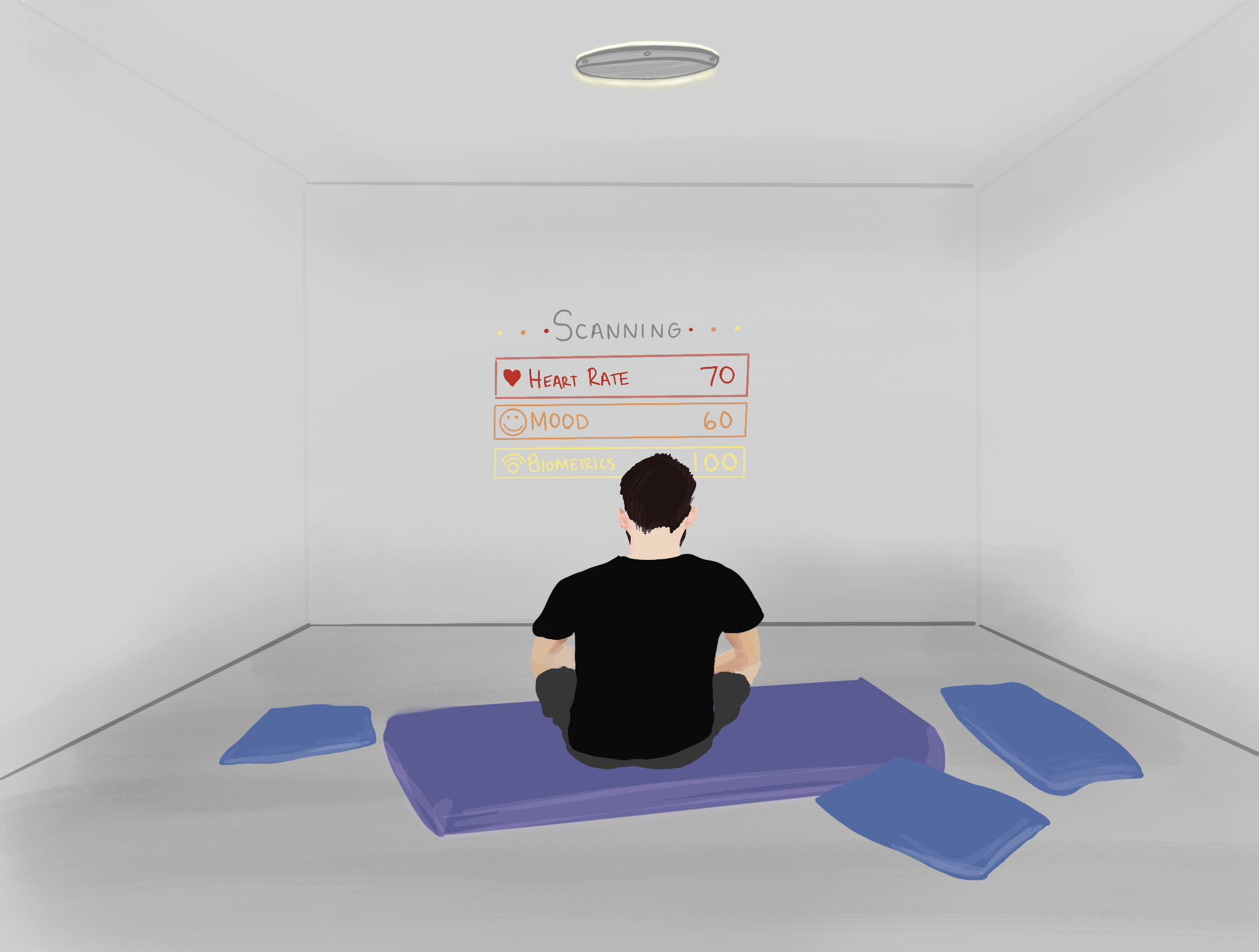 When the user is situated, the biometric technology begins to scan them.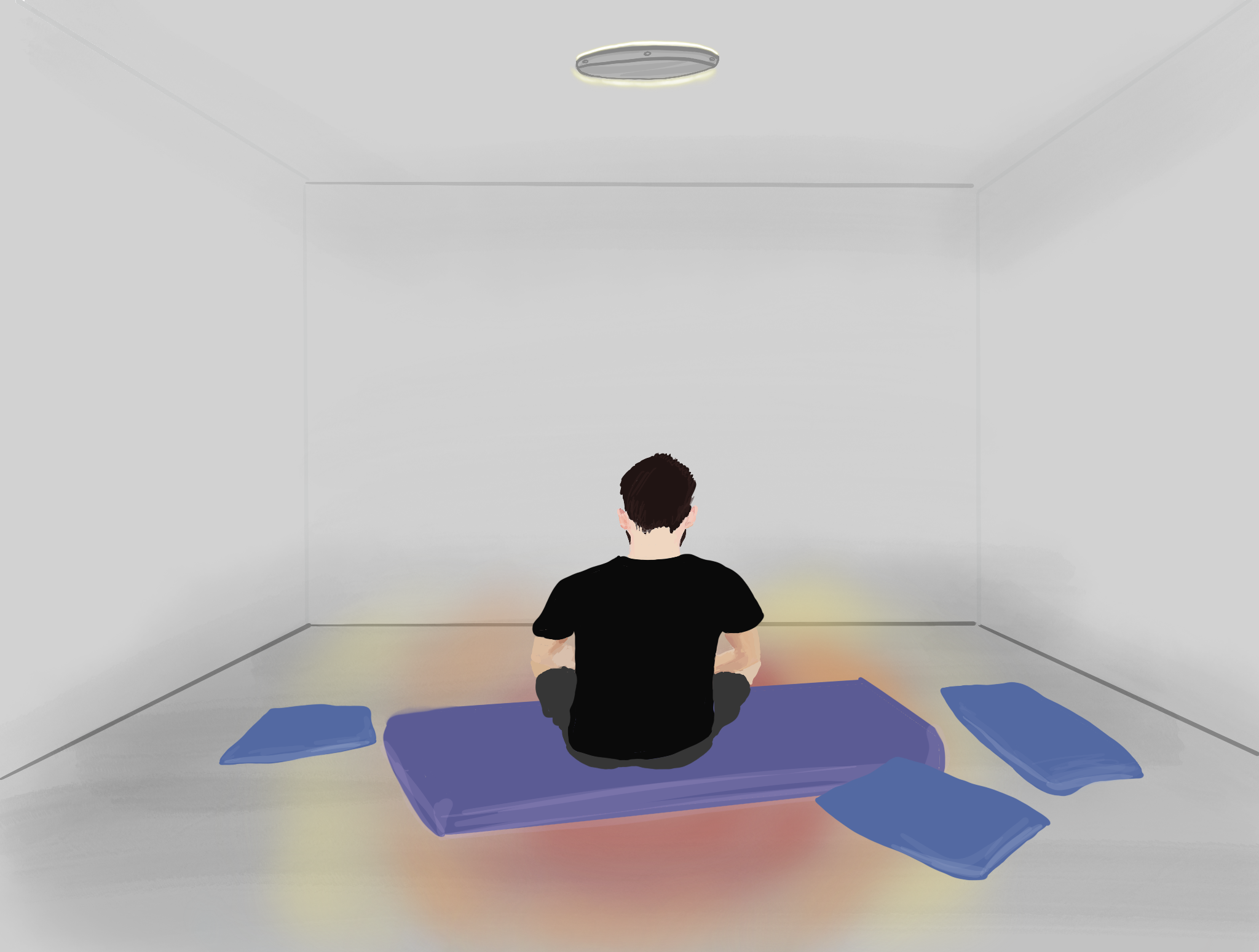 Sol Control responds to the user meditating by showing corresponding visuals.
Feedback from Users
Choosing the word BMI, received comments about how seeing this word before a meditation could add to a person's stress.
"I see it says biometrics. I really don't want to think about what the numbers mean according to my weight. I am not sure how significant it is to be showing me these numbers like this."
I decided to remove this aspect of the design and calculate the data behind the scenes.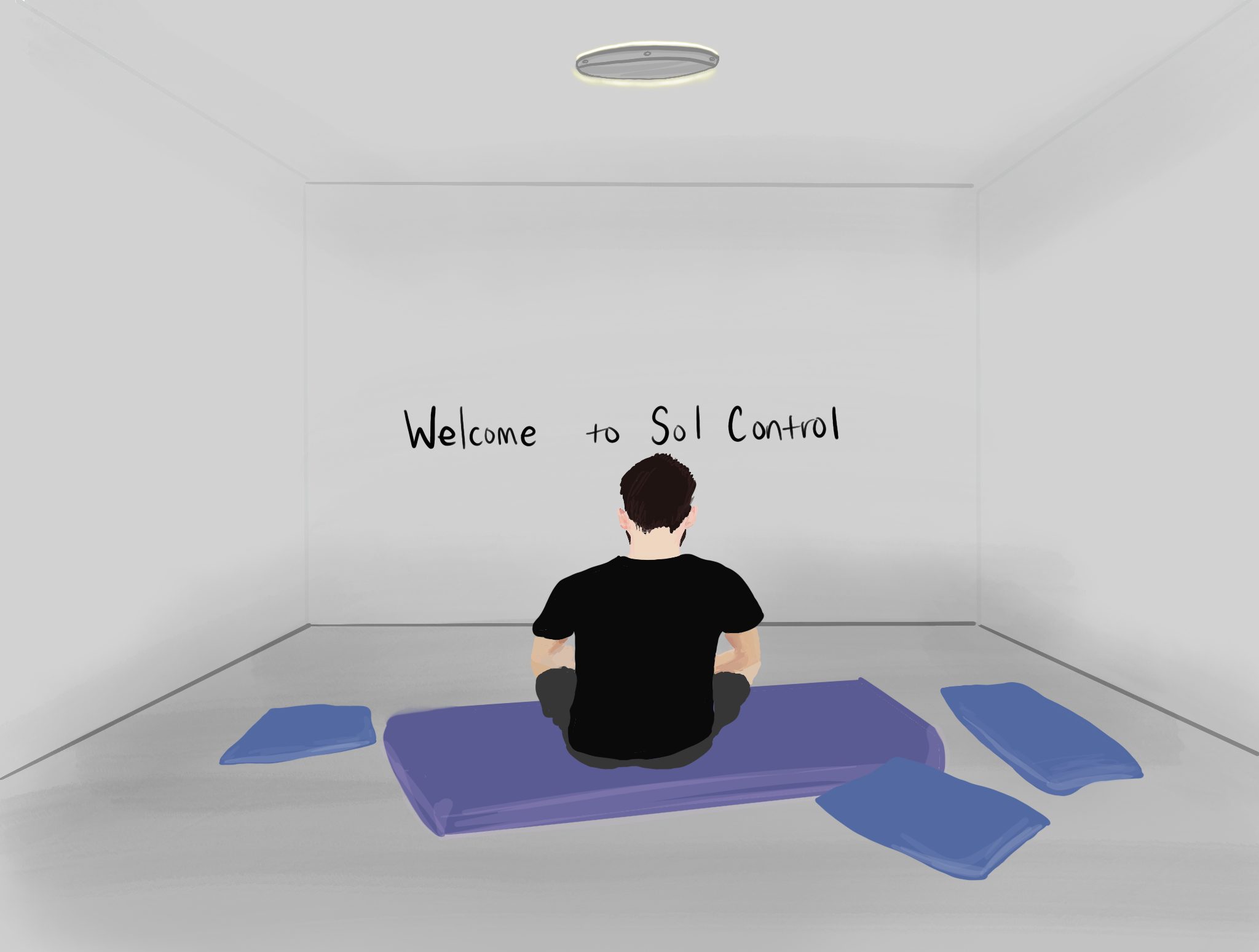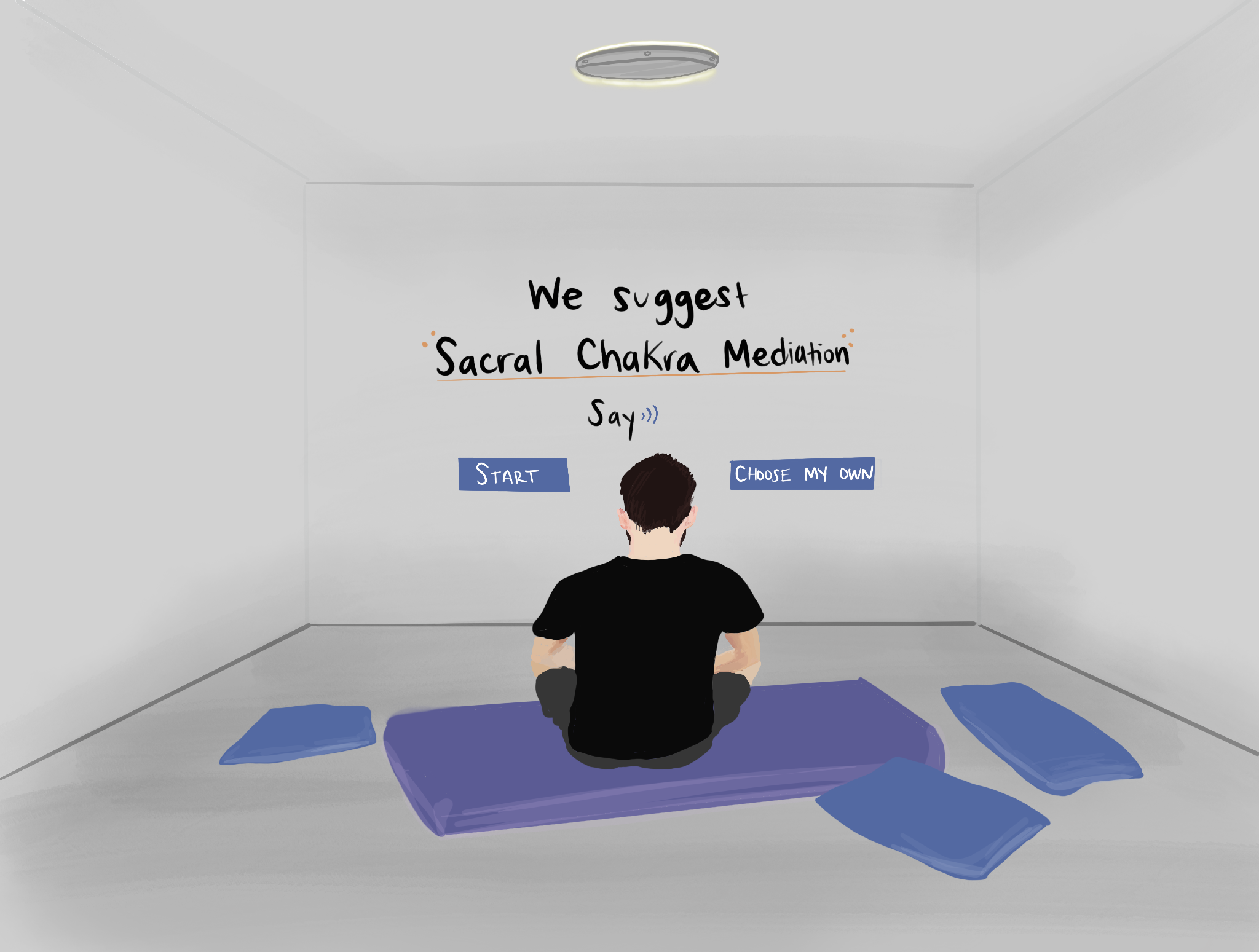 Next, I explored how the room would look and respond with naturescapes.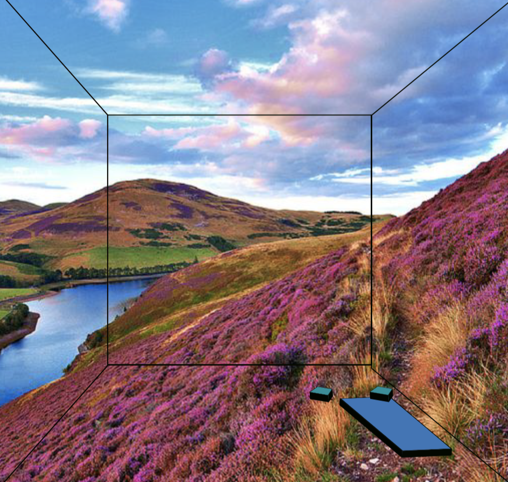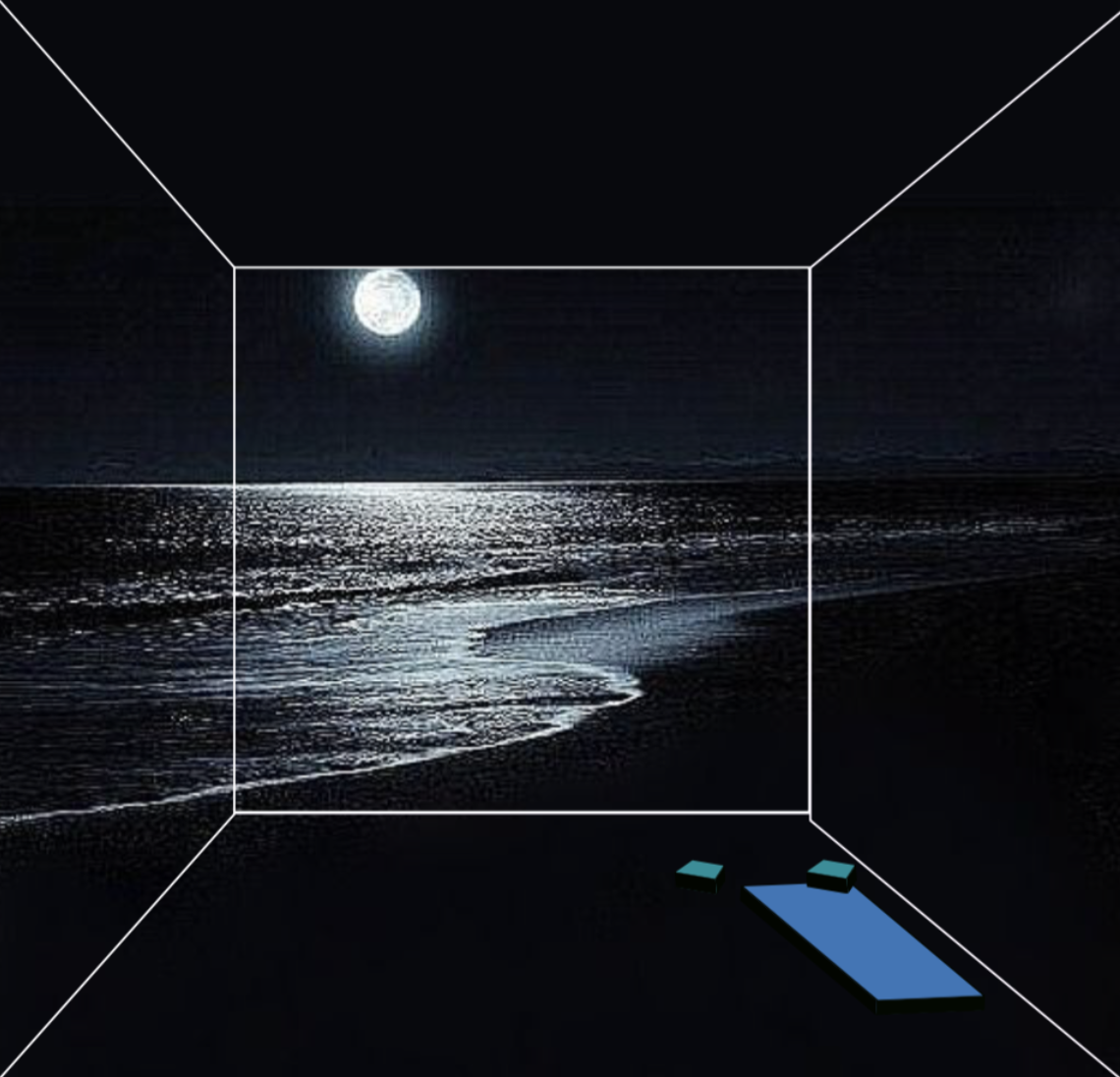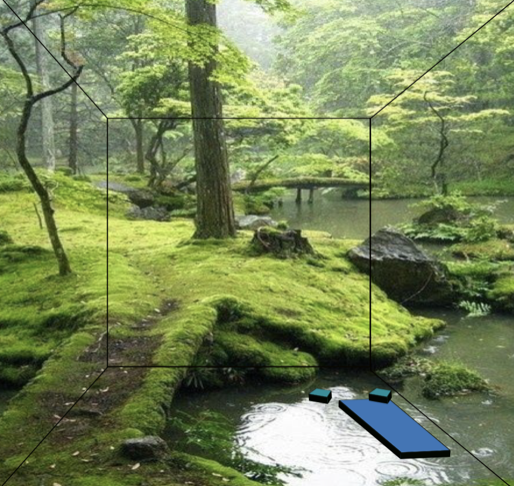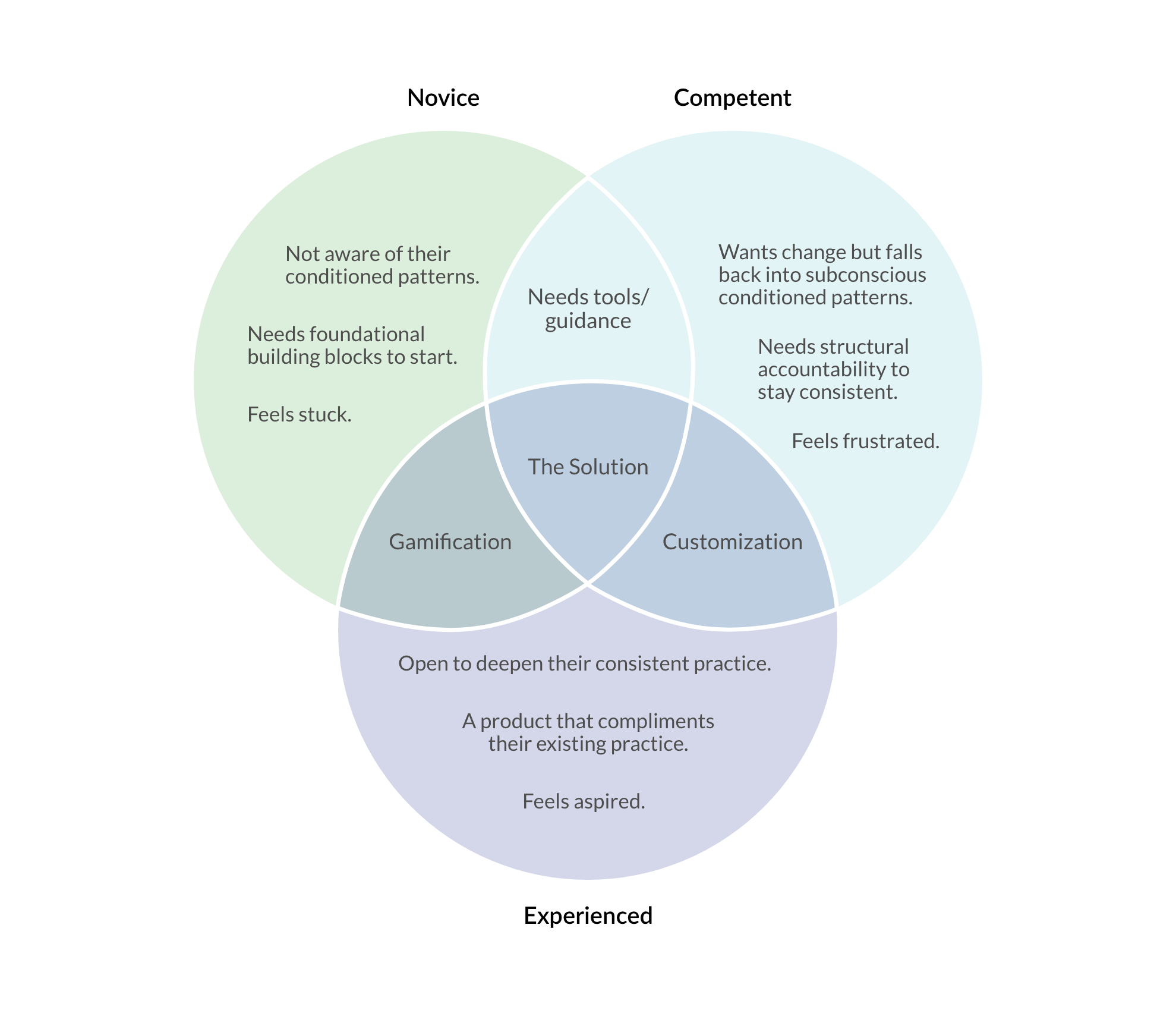 I broke down the personas into the categories:
Novice - never practiced or thought of or tried meditation once
Competent - has tried several times, knows it has helped them but are not consistent
Experienced - meditates at least 3 times a week
COVID-19 Impact Research
As the state of the world changed, my projection felt like it would no longer be successful. I decided to hit pause and figure out the new problems meditators were facing. I decided to conduct another round of research that stayed within my scope to meet the project deadline. I sent out a survey and interviewed 20 participants.
From these research methods, the goal was to understand the personal feelings and impacts of COVID-19 on those who practice mindfulness meditation.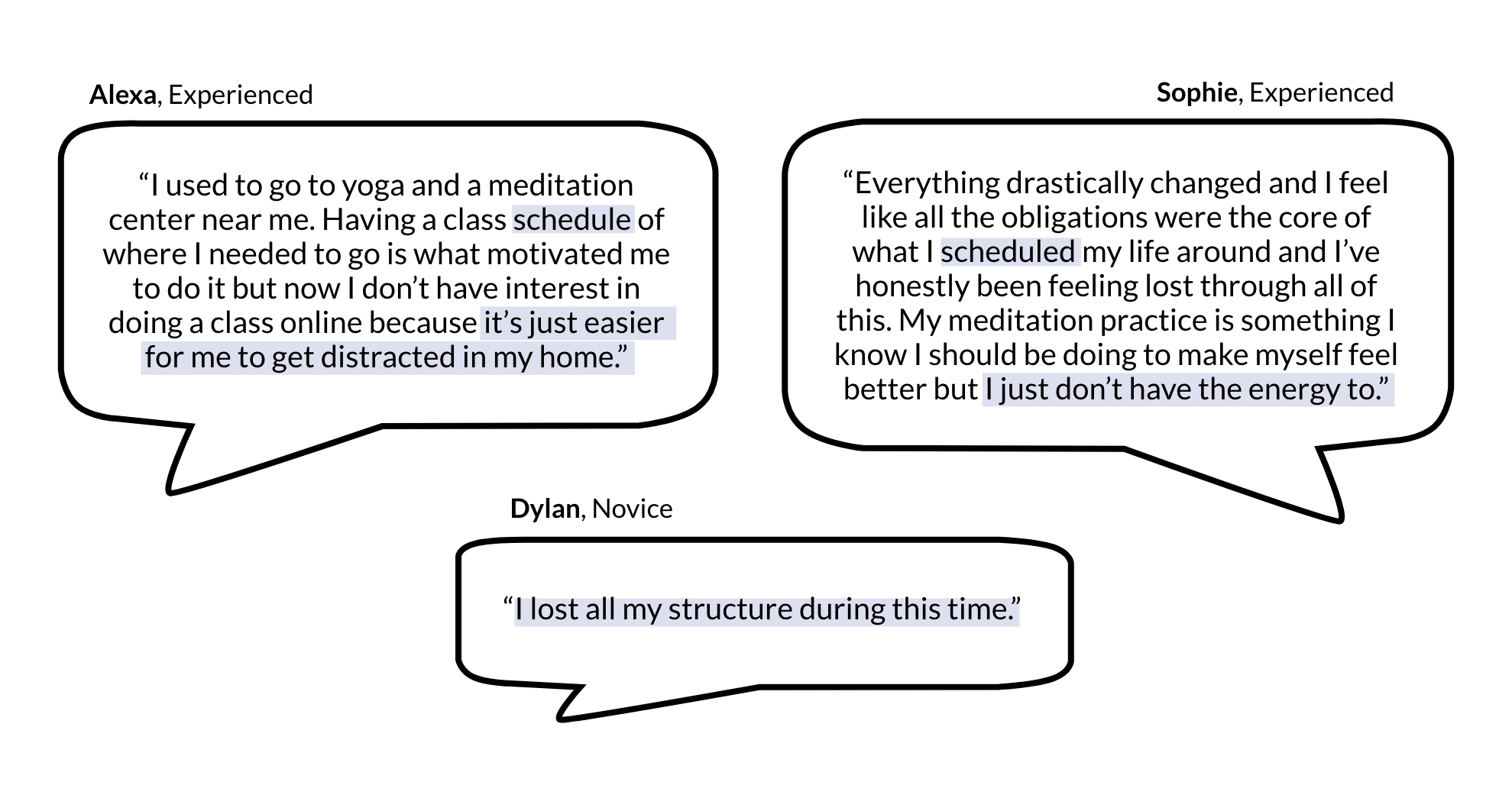 During interviews, loss of consistency and motivation were prevalent themes among participants.

Another repeated theme was how home life and space affect their practice.

Task Walkthroughs
Over Zoom calls, four participants who practice meditation explained to me the steps before, during and after their practice. What interested me most was the artifacts participants used during their at-home meditation practice.
Apps: Headspace, Calm, Youtube, Insight Timer

Insense: sage & smudge sticks

Candles

Props: Bolster, meditation pillow, blocks, blankets

Singing bowl

Crystals

Different colored lights: controlled with their phone, night lights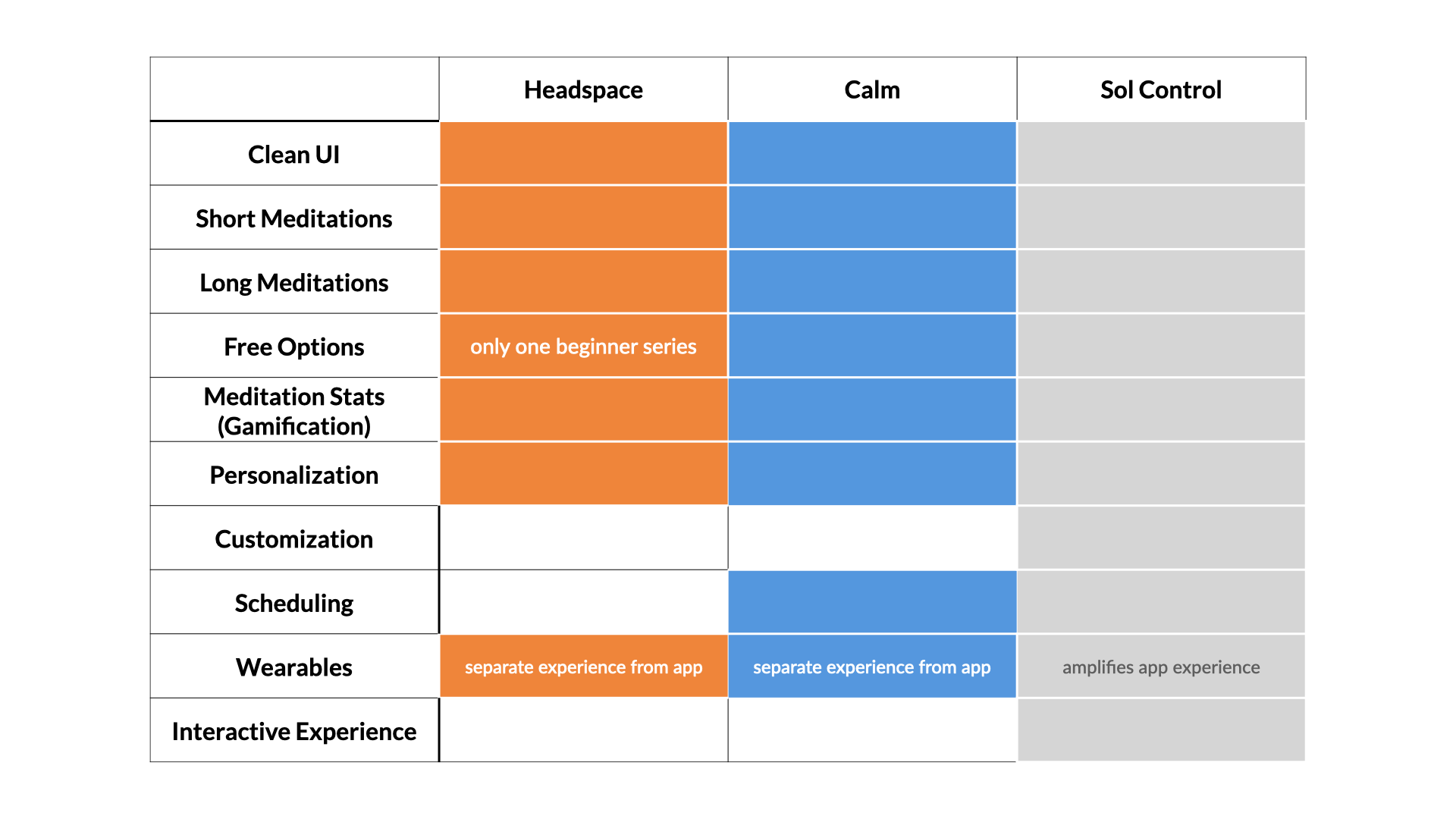 Competitive Benchmarking
Headspace and Calm are the two top-rated mindfulness meditation apps available in the App Store. Headspace has drastically begun to out beat Calm by having strong branding and easy-to-use app navigation.

Sammy, Jacey and Samara represent the novice, competent and experienced meditators.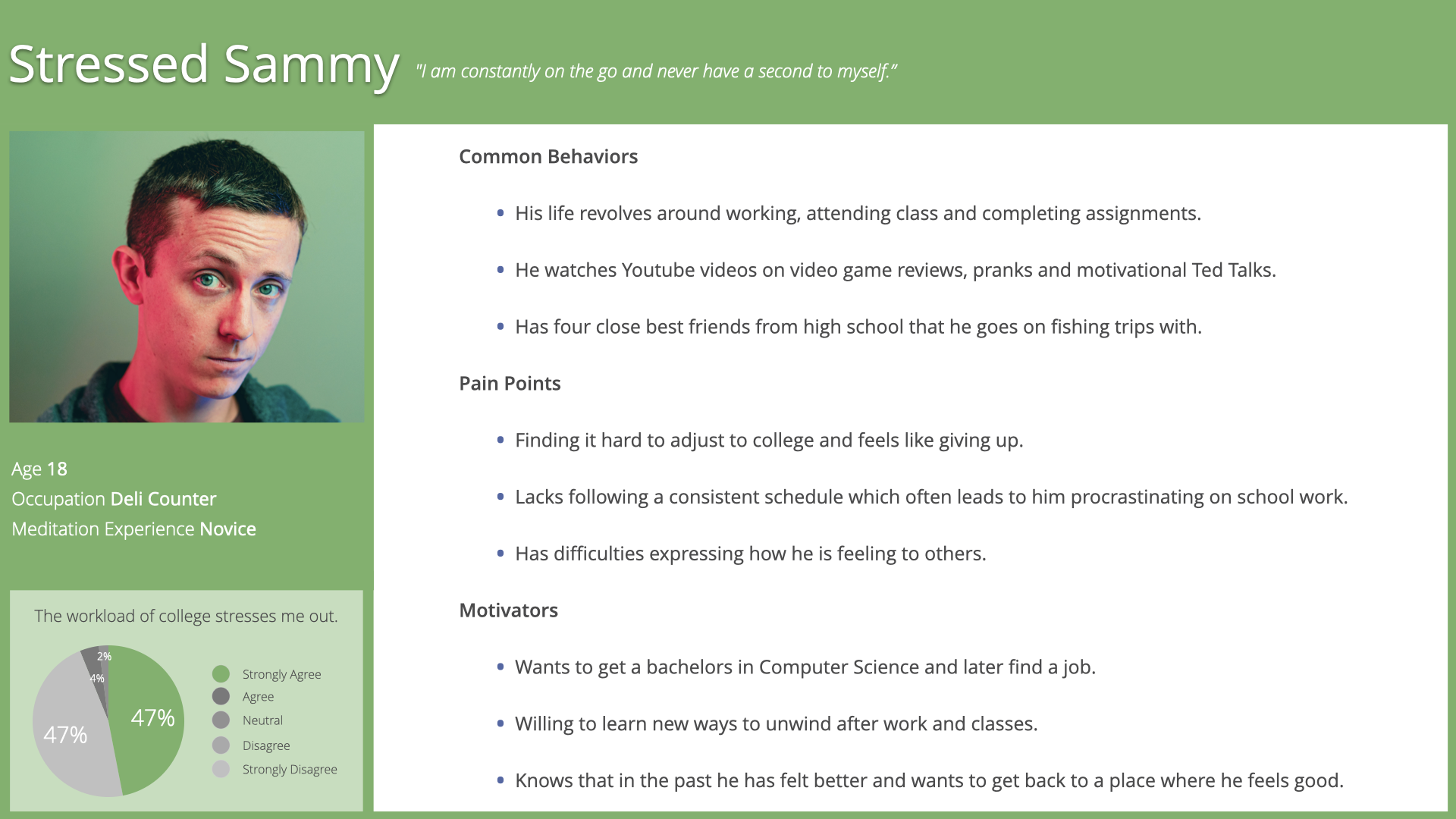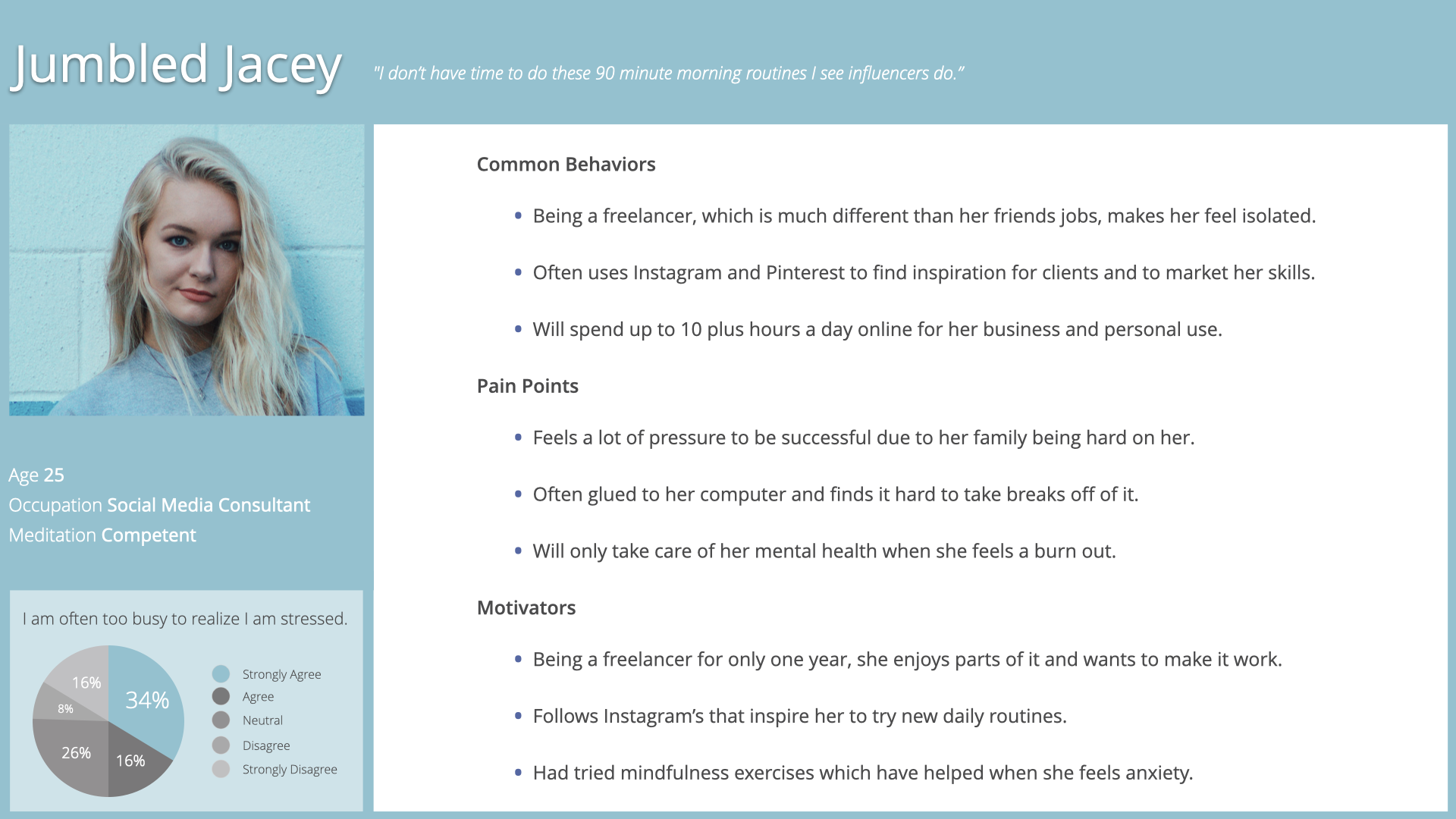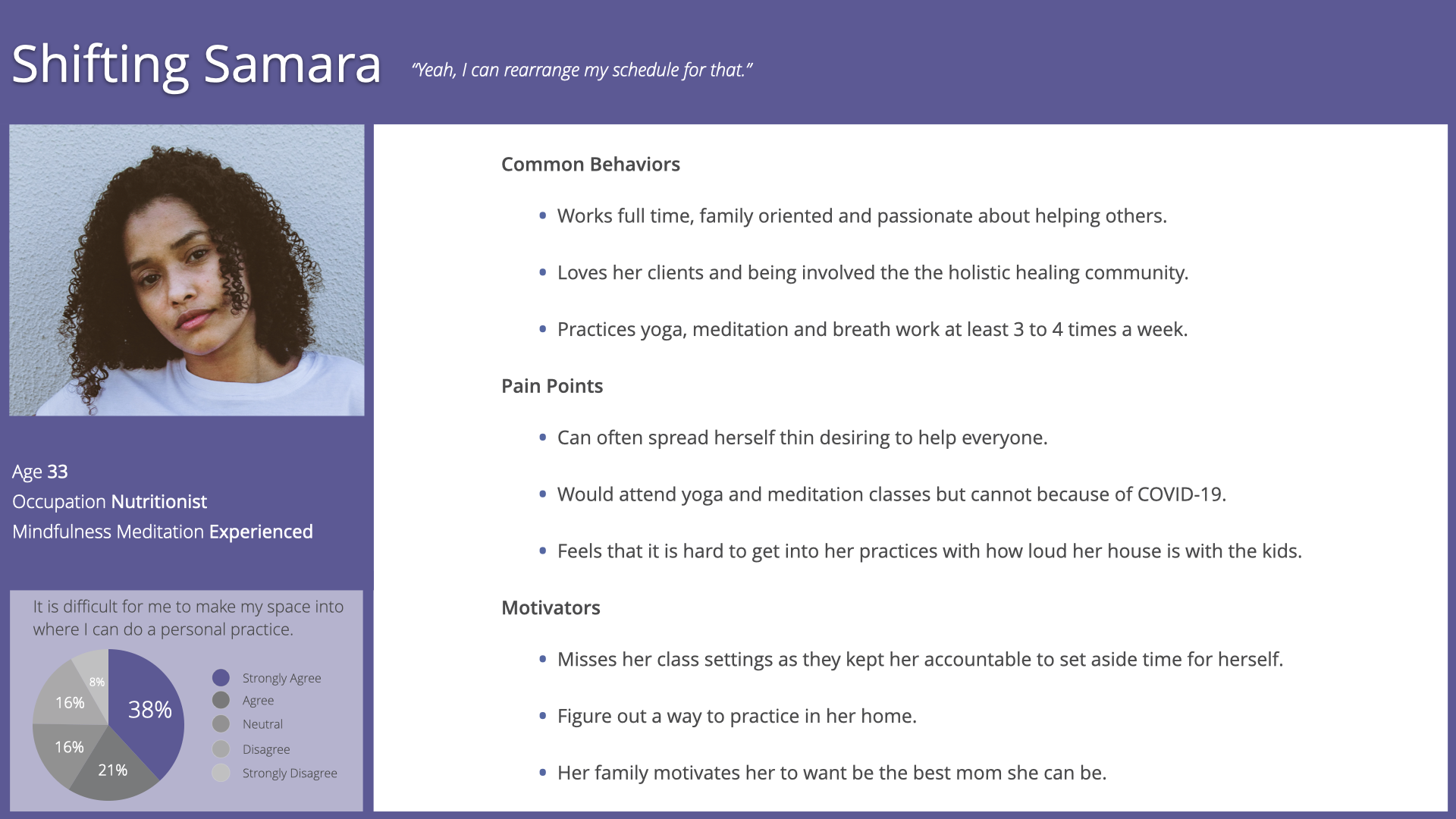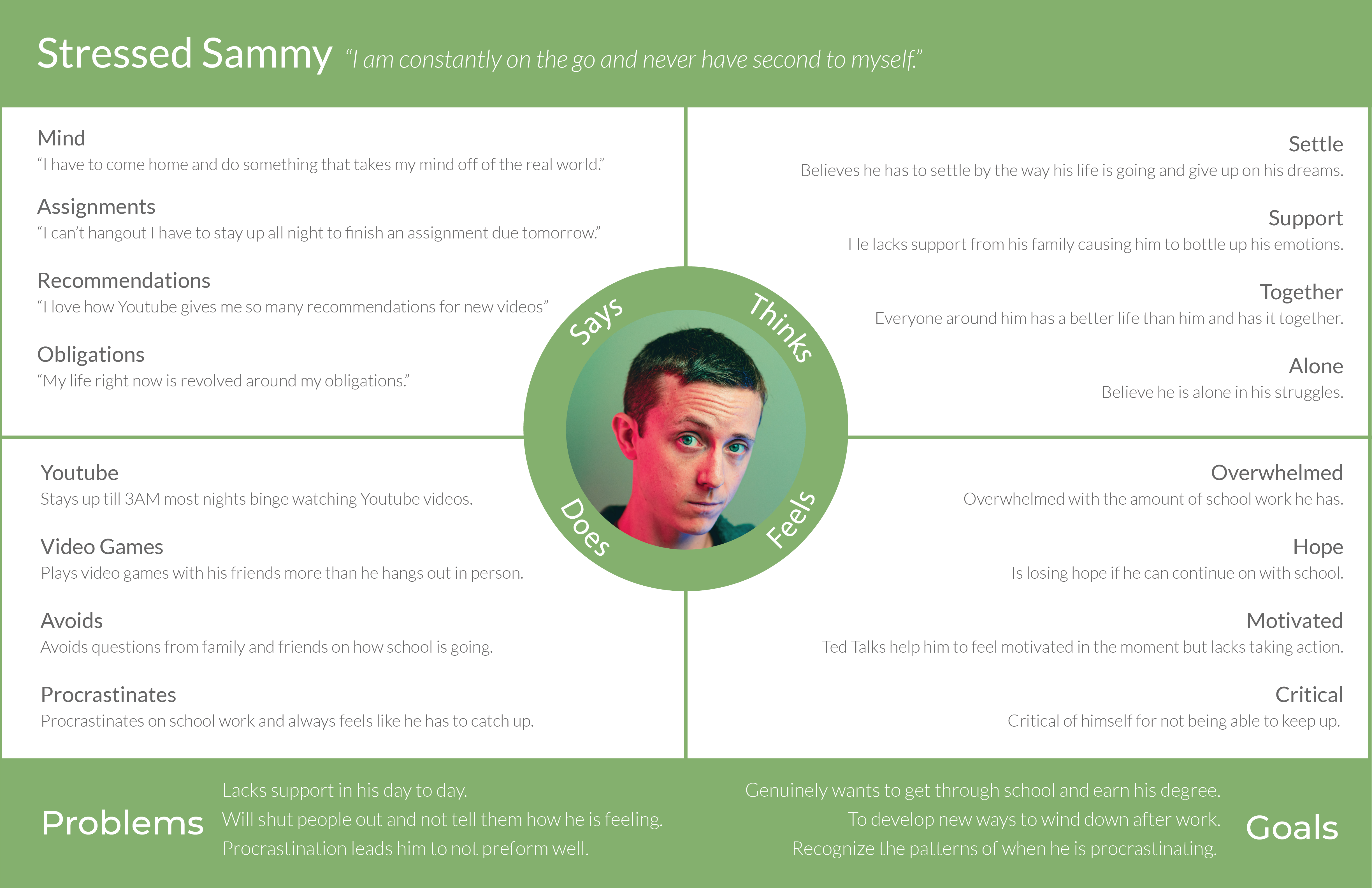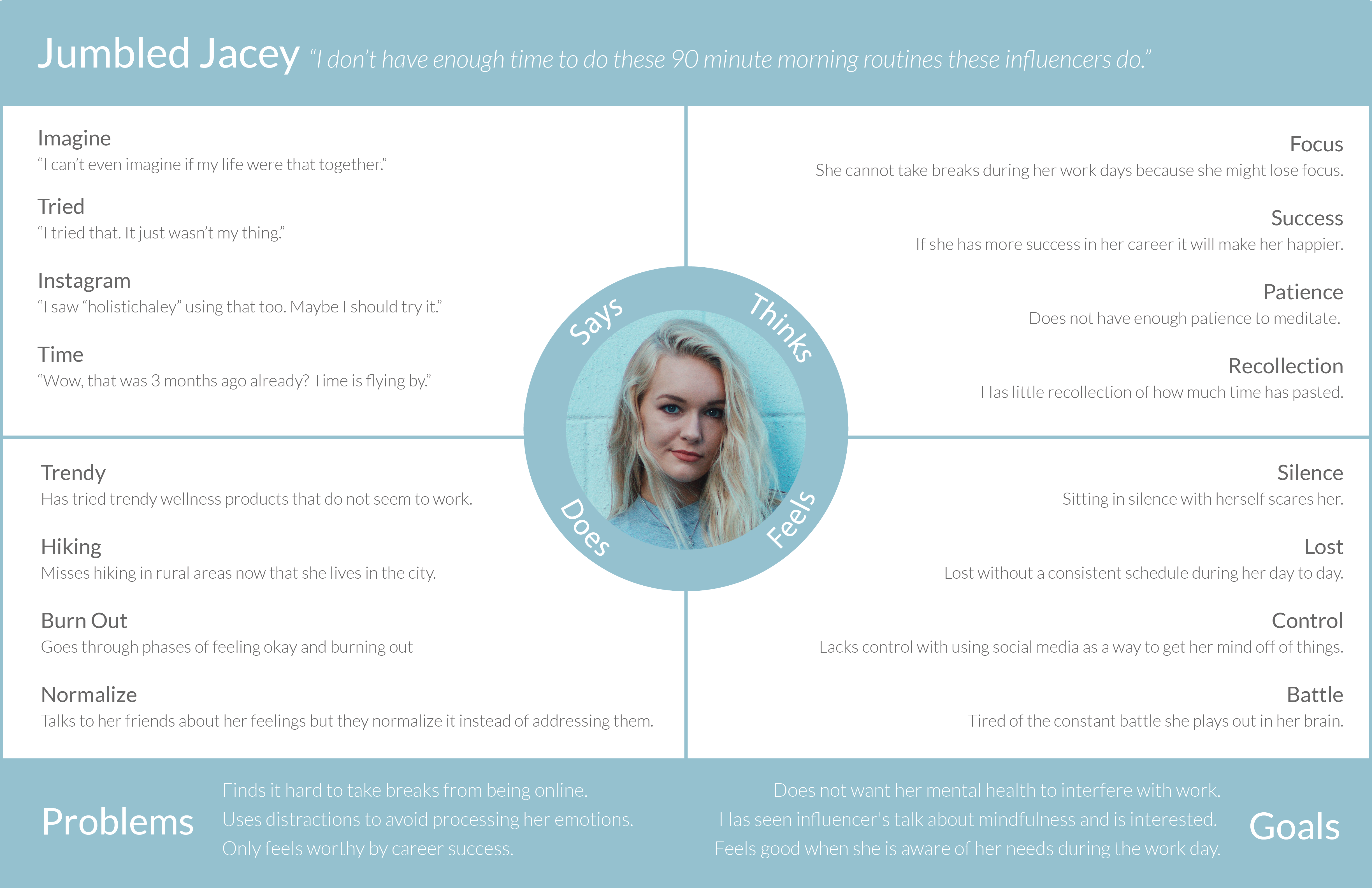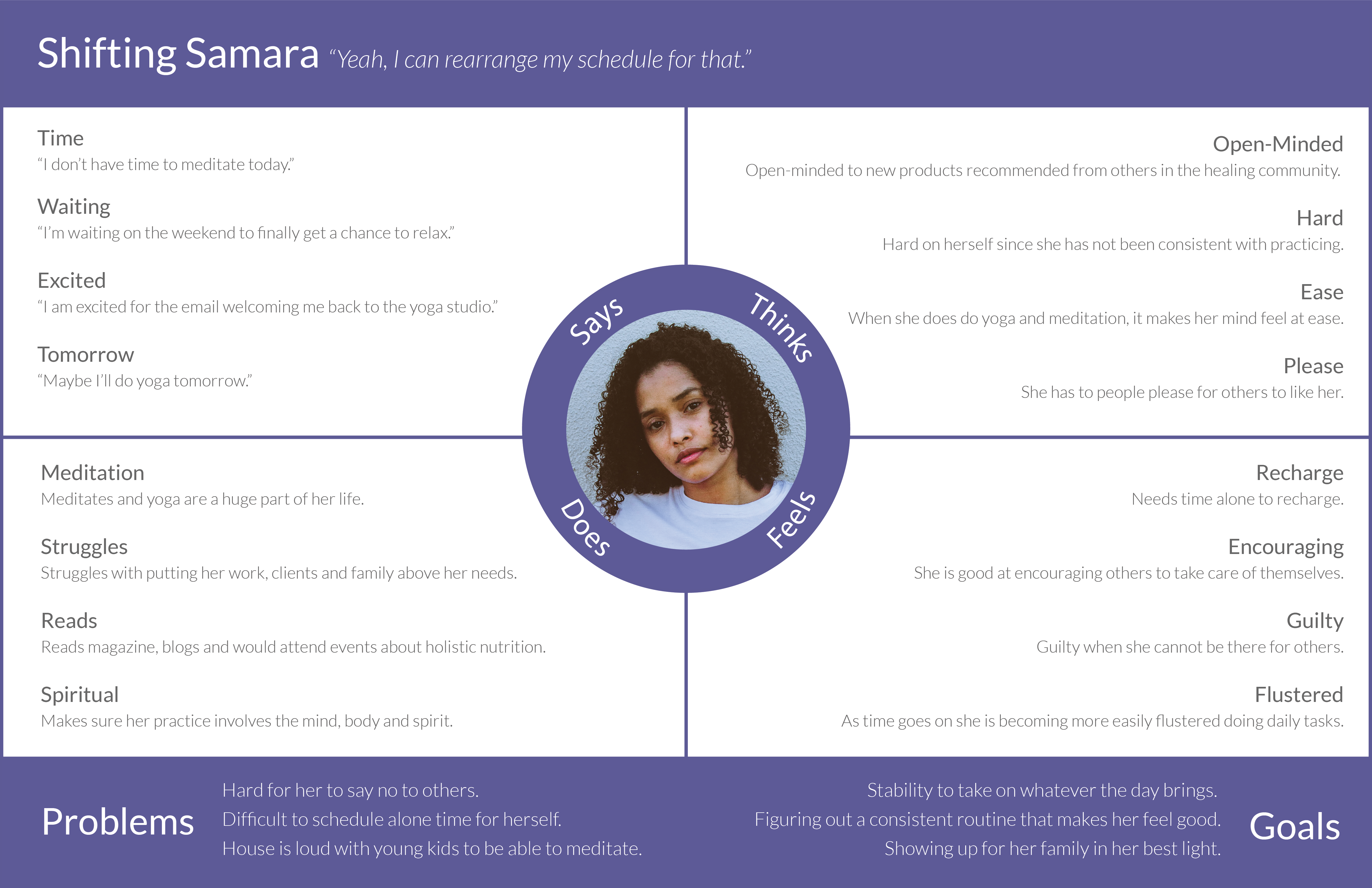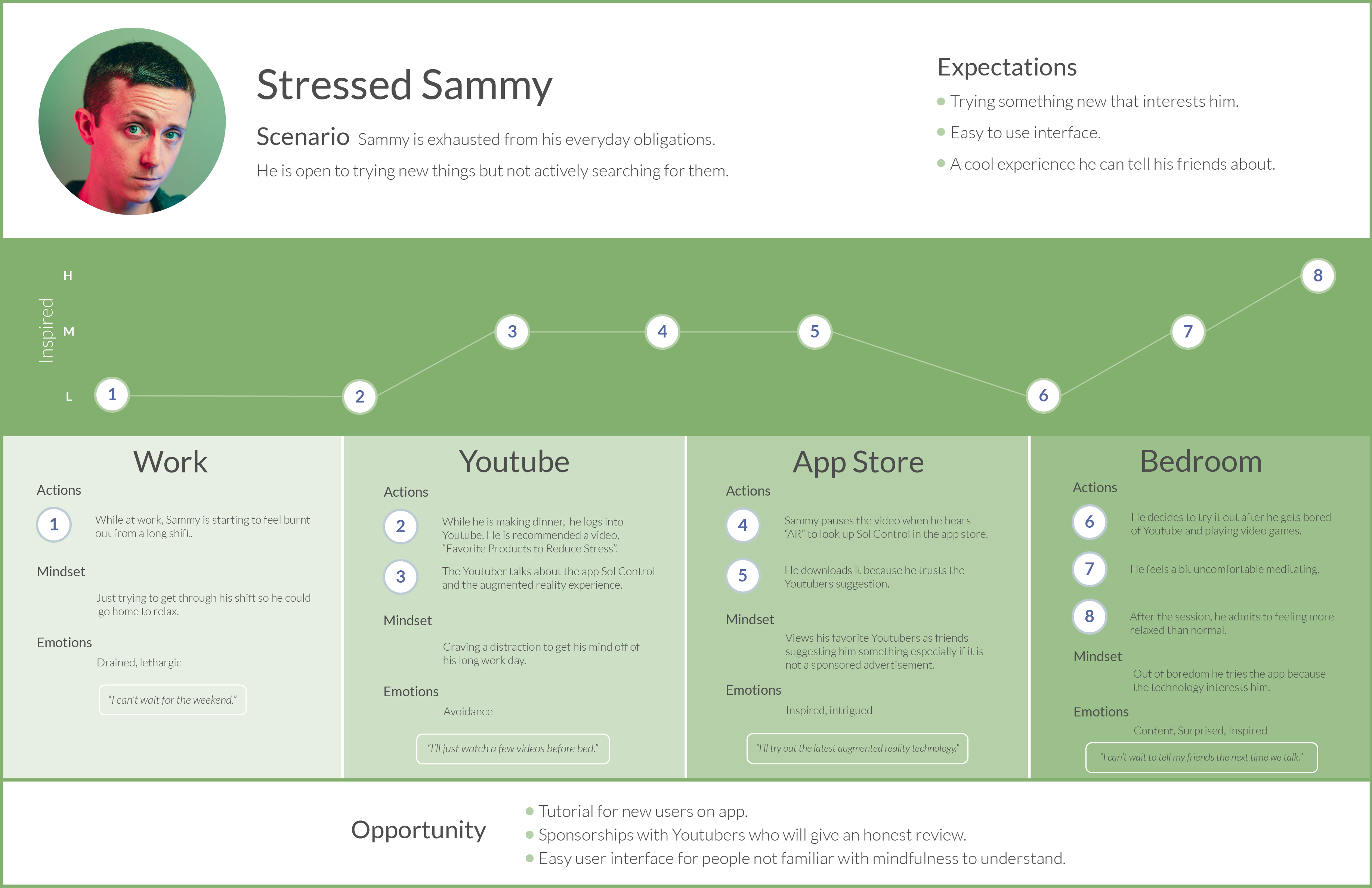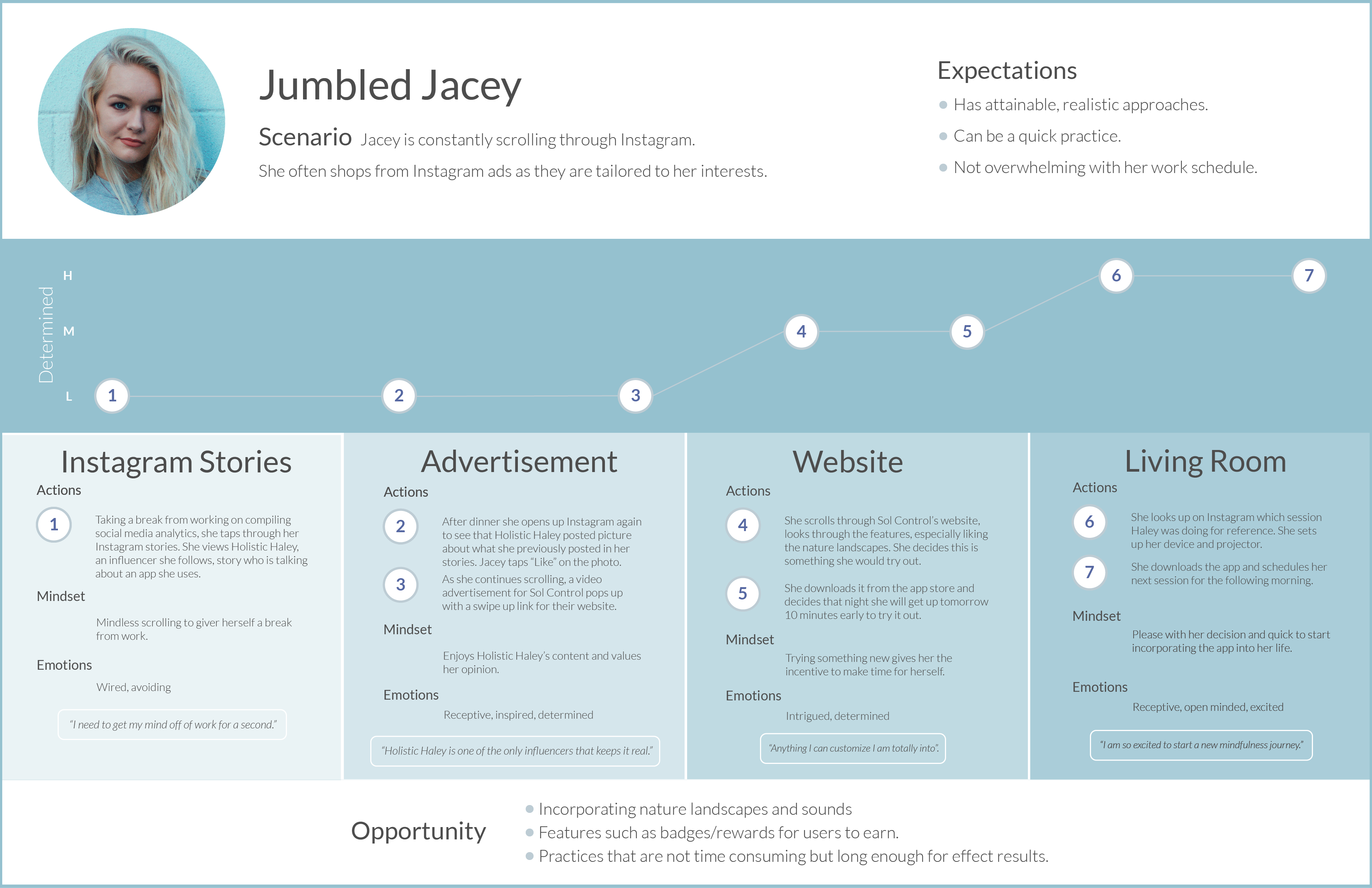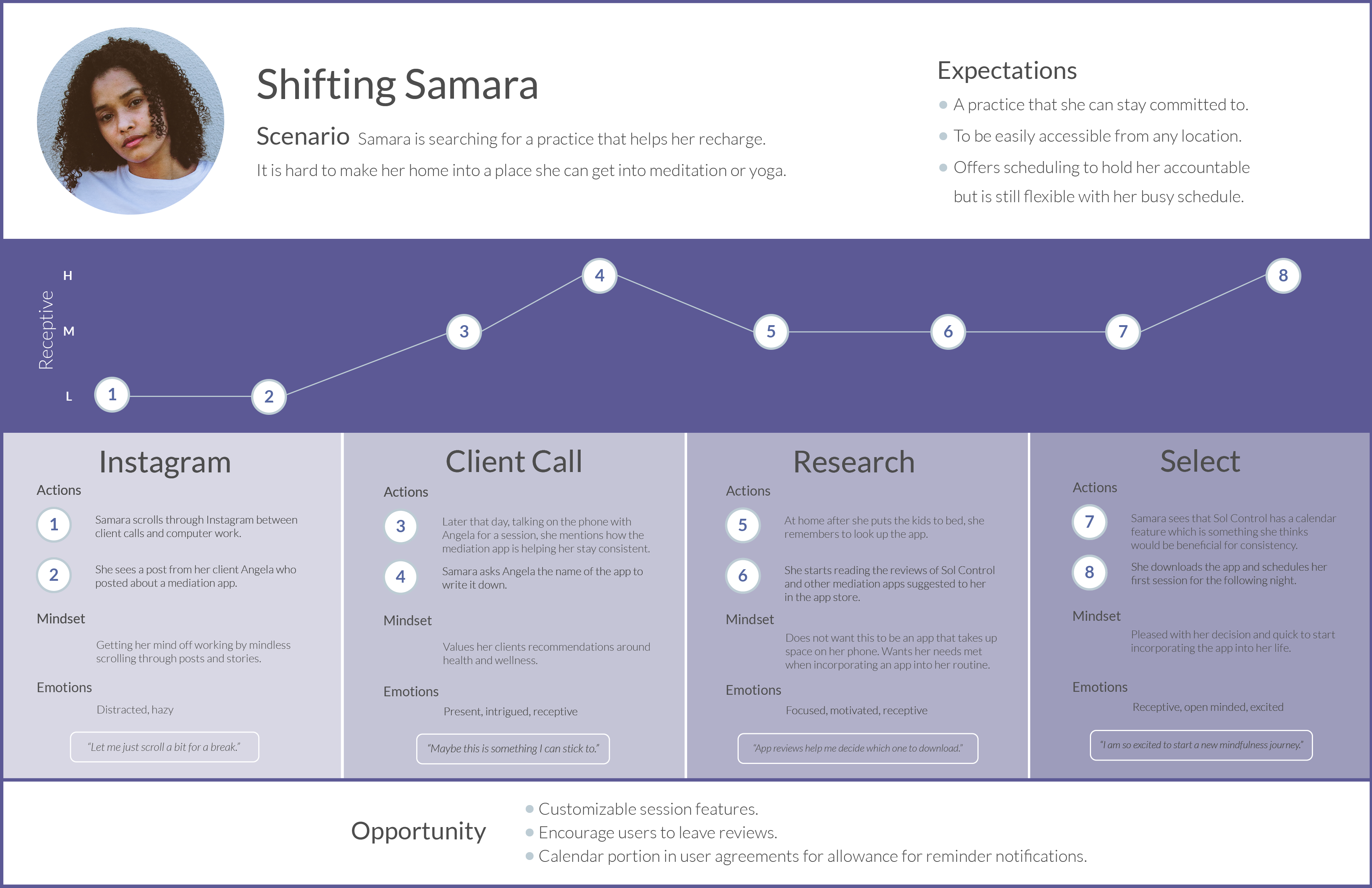 Design Thinking
After analyzing the user needs, I translated their requirements into functional solutions.
The novice meditator: "I would be interested in meditations if I was given the tools to do so." >> Translation: "In-App Tutorial", "Onboarding", "Difficulty Ratings."
The competent meditator: "I am too busy to realize I am stressed.", "I only remember to practice meditation when I feel burnt out." >> Translation: "Scheduling Feature", "Calendar", "Notification Reminders."
The experienced mediator: "It is difficult for me to make my space where I can commit to a personal practice." >> Translation: "Projection Mapping", "Augmented Reality or Virtual Reality", "Meditation Customization."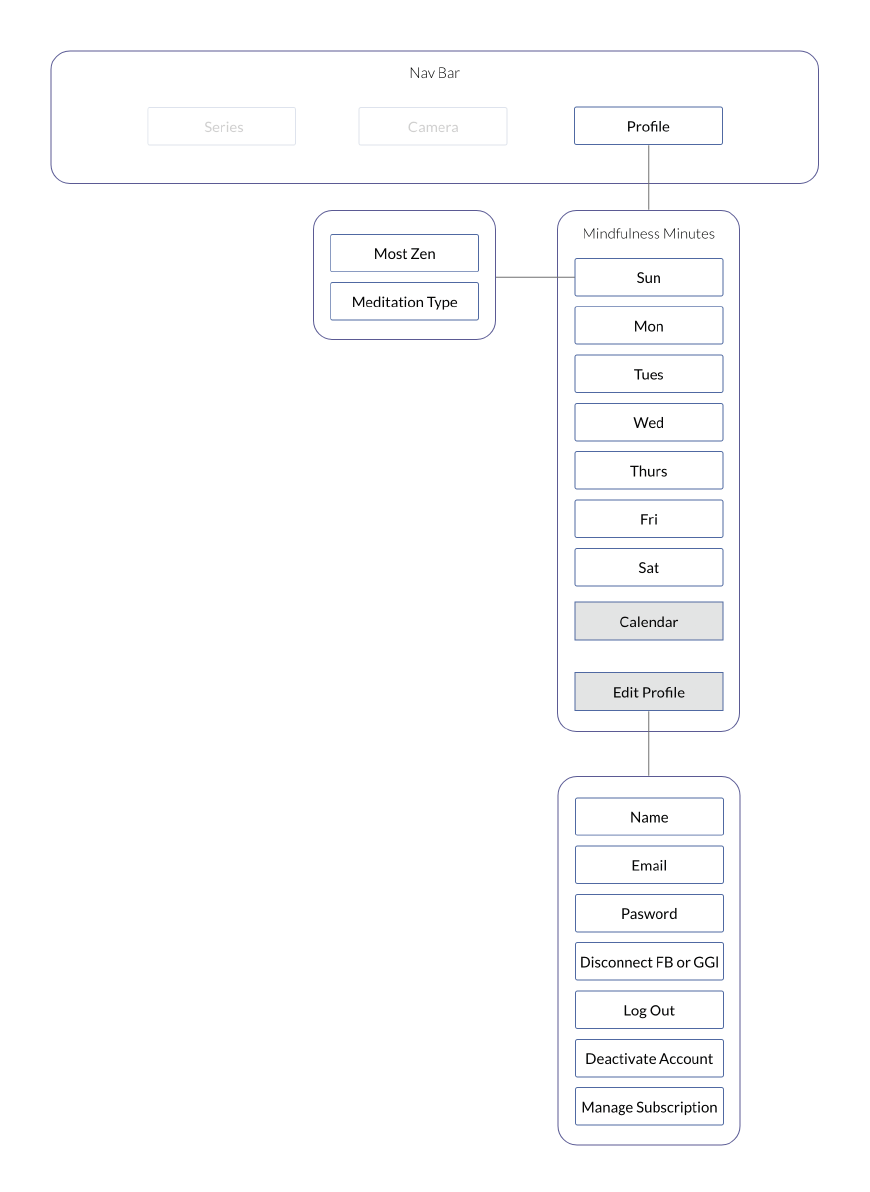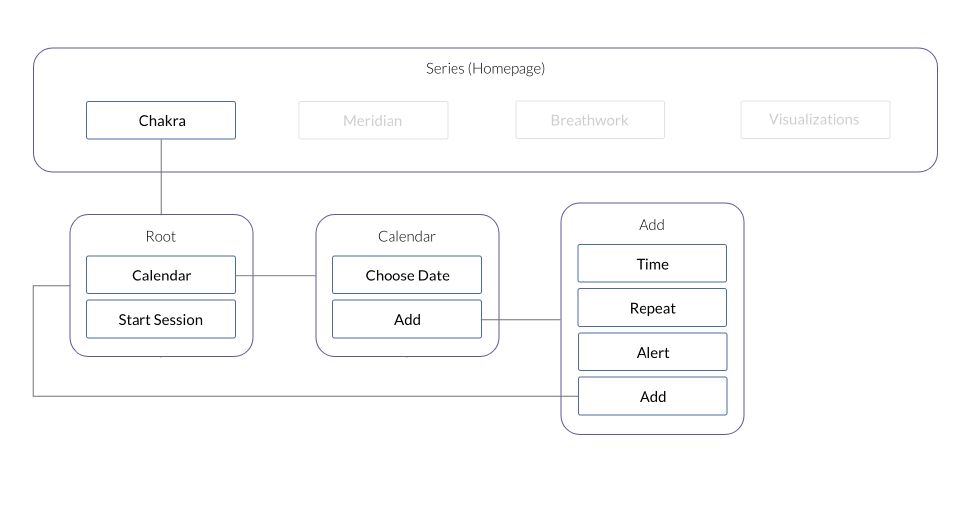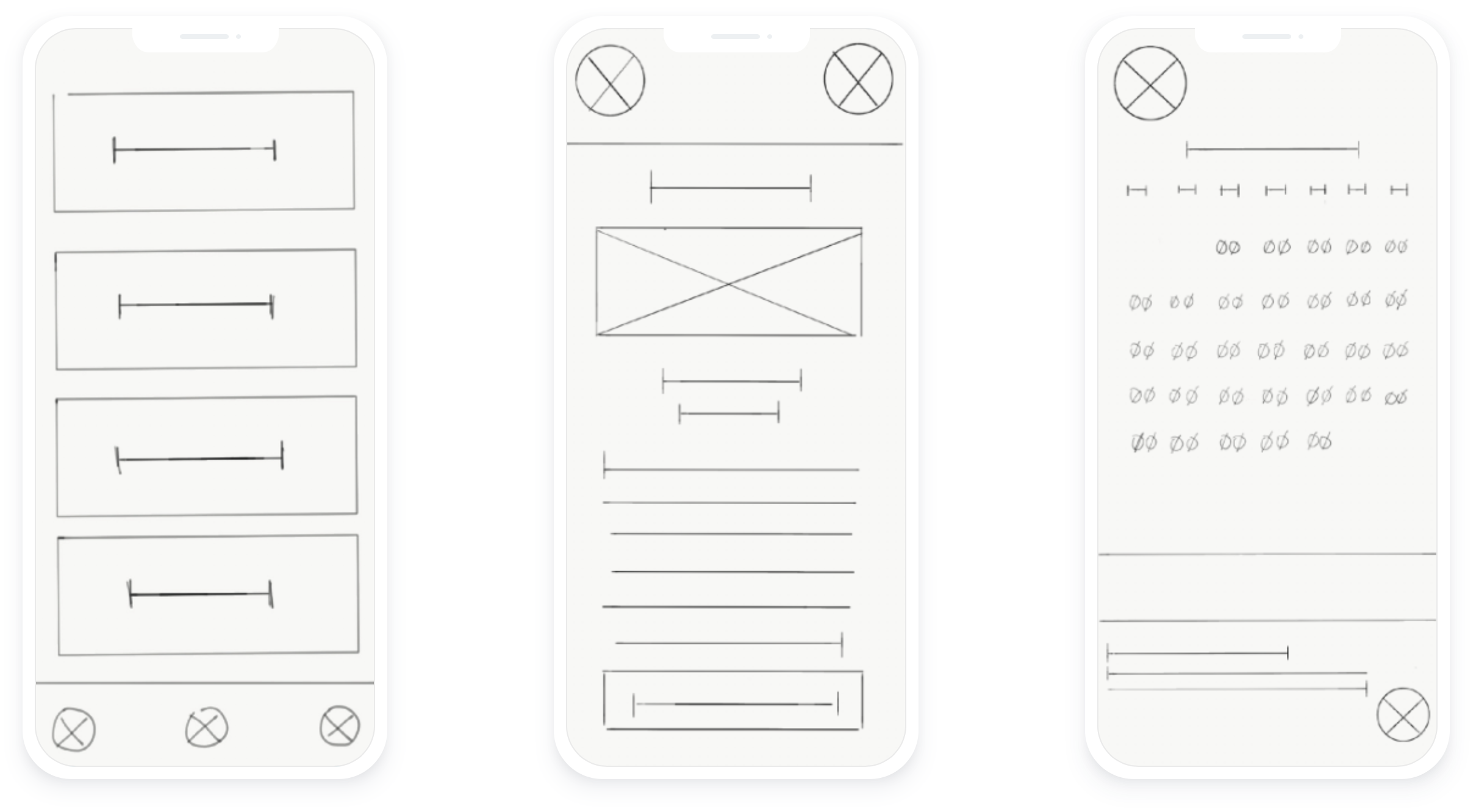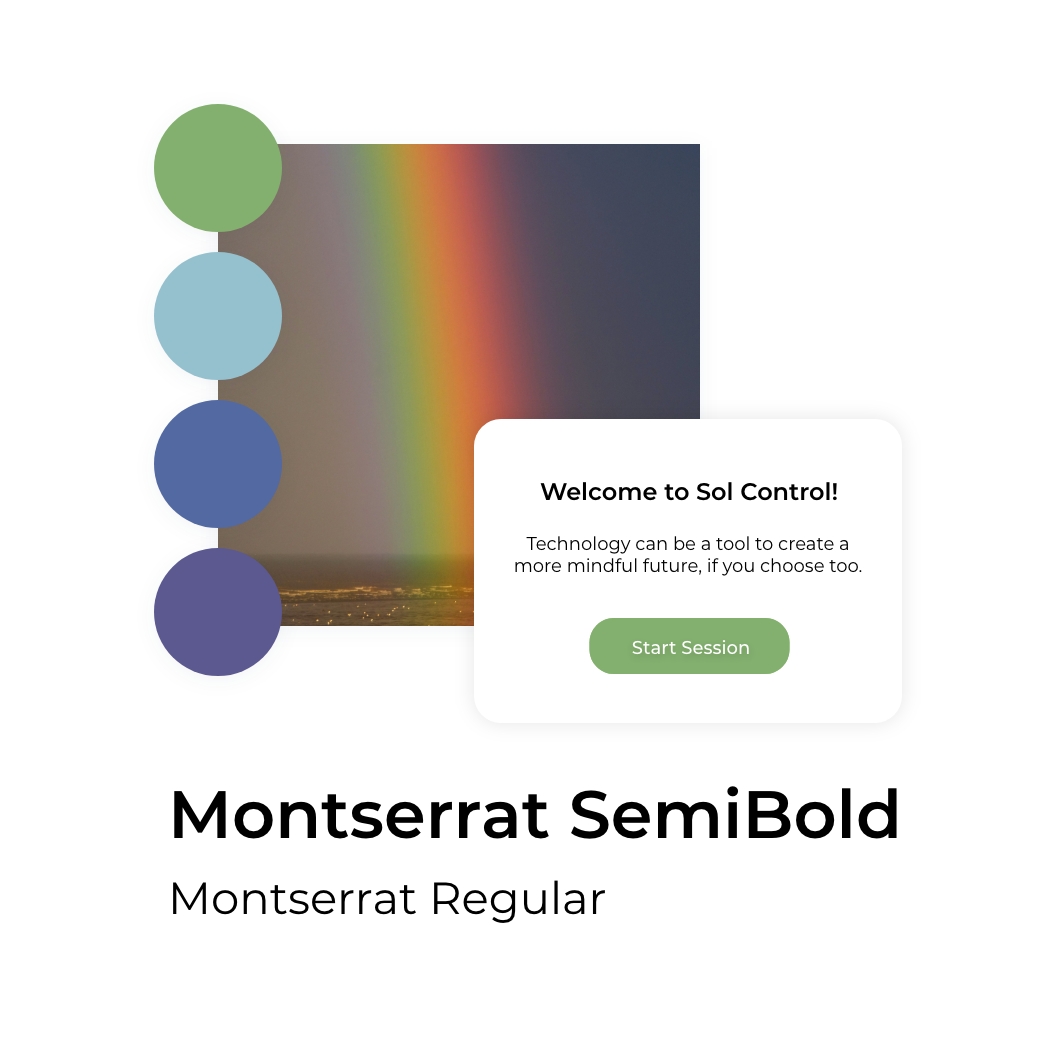 Look and Feel
I wanted the solution to correspond with the meditations in the app. I gathered from research that the most prevalent talked about as powerful meditation were chakras, meridians, breathwork and visualizations.
To keep each meditation sacred to the traditional teachings, I incorporated the color and symbol associated with each.
I decided to make the logo represent the seven chakra colors. I kept green, light blue, indigo and purple as the theme of the app as those colors contrast from text well.
App Usability Testing
To make sure to get the answers I was searching for, I went into usability testing with a plan. Certain features in the app were designed to set up each user for success.
Such as:
in-app tutorial for the novice

calendar, and scheduling for the competent

meditation space customization for the advanced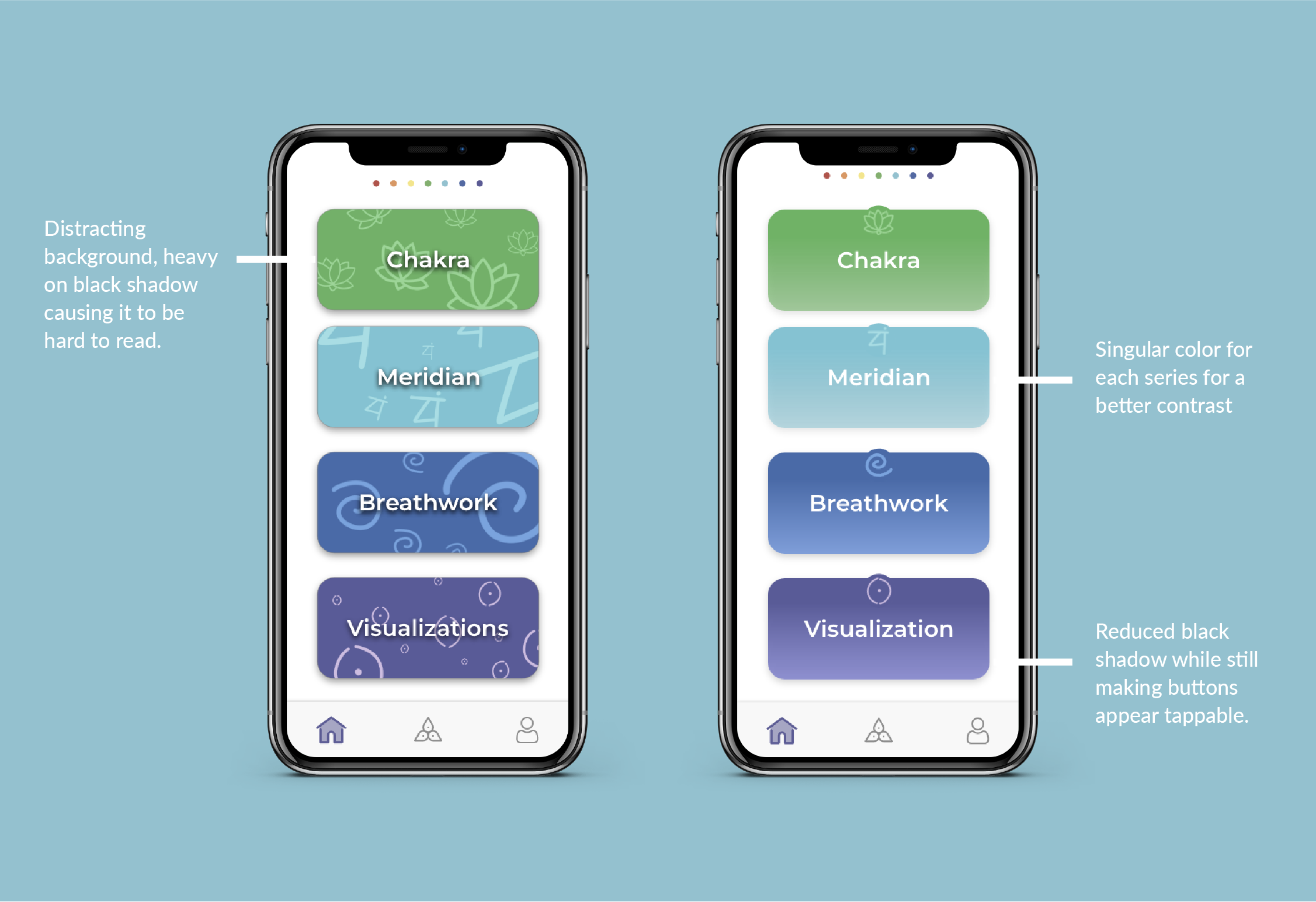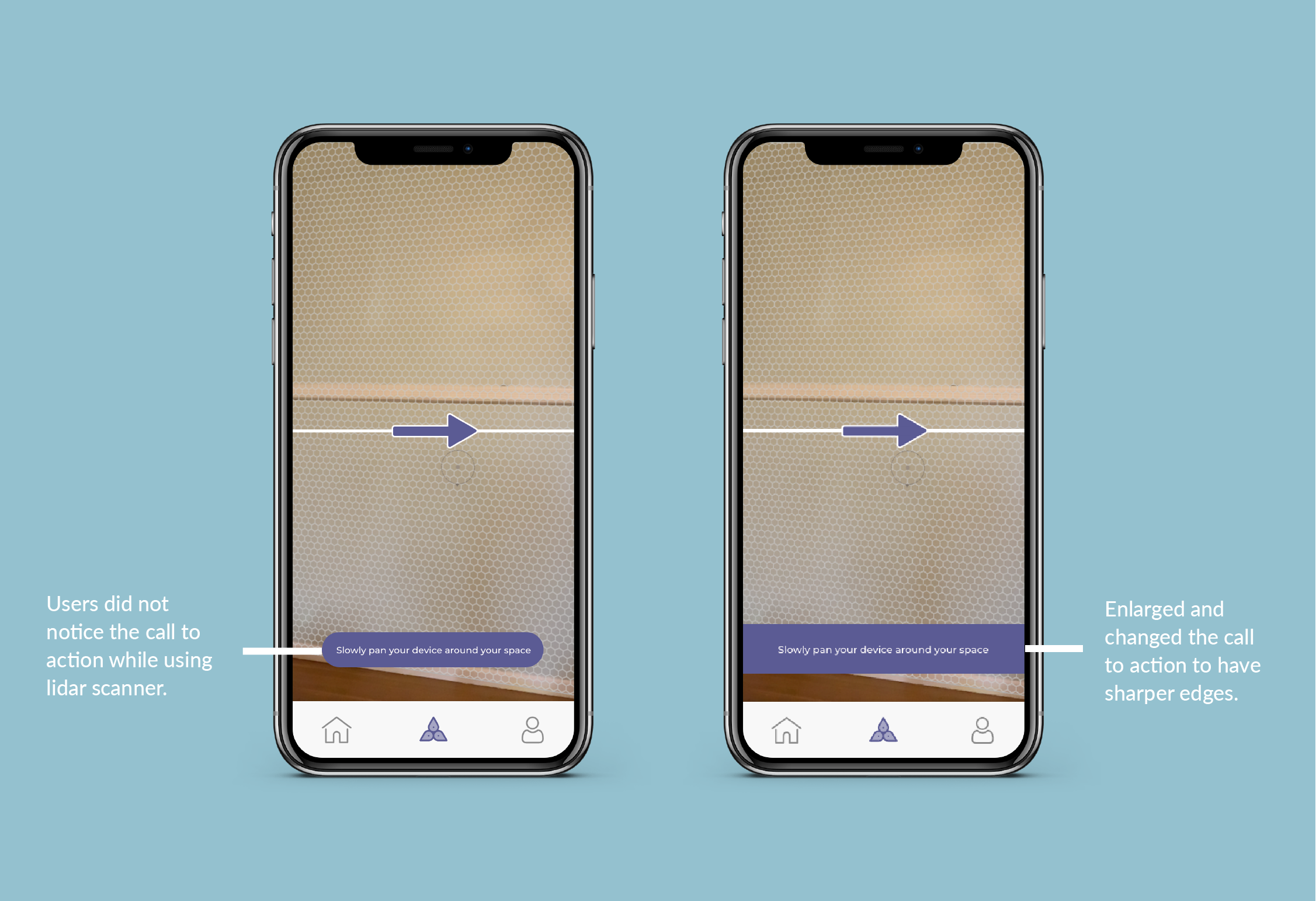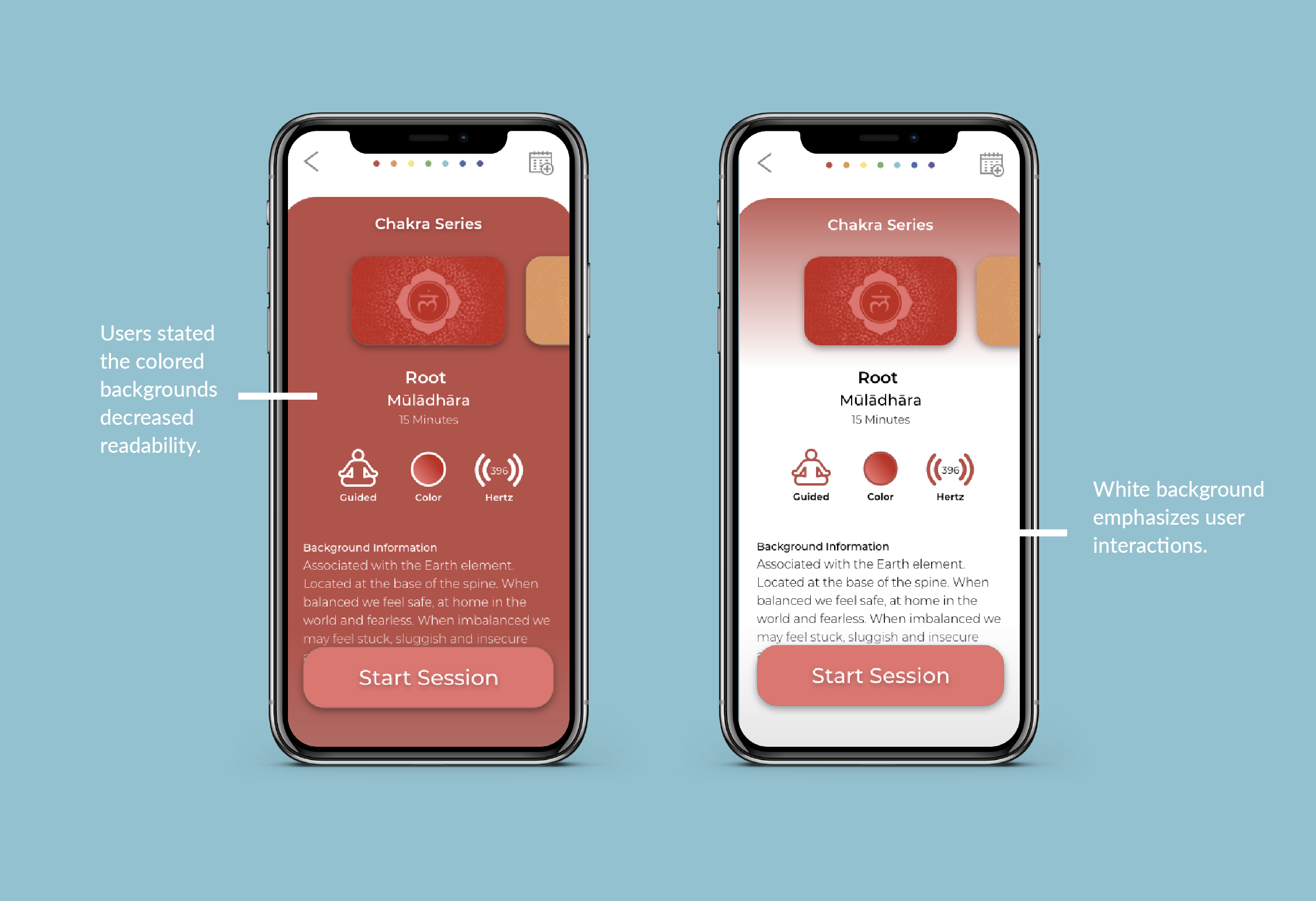 Testing Outcome - Onboarding
One of the usability participants stated, "I am not sure what these words mean here because I've never meditated before." I knew at that moment I had to create an onboarding process for the novice user.
I worked with the user to create a step-by-step onboarding process after the signup and enter the app to make the novice user feel ready to start their meditation journey.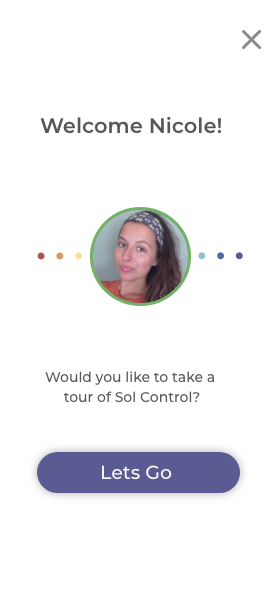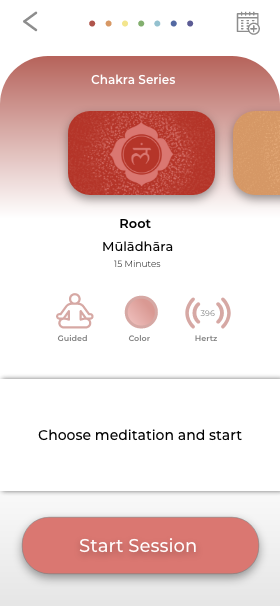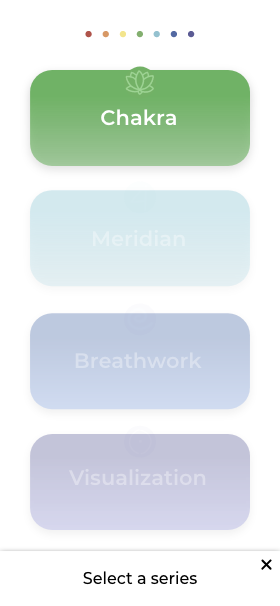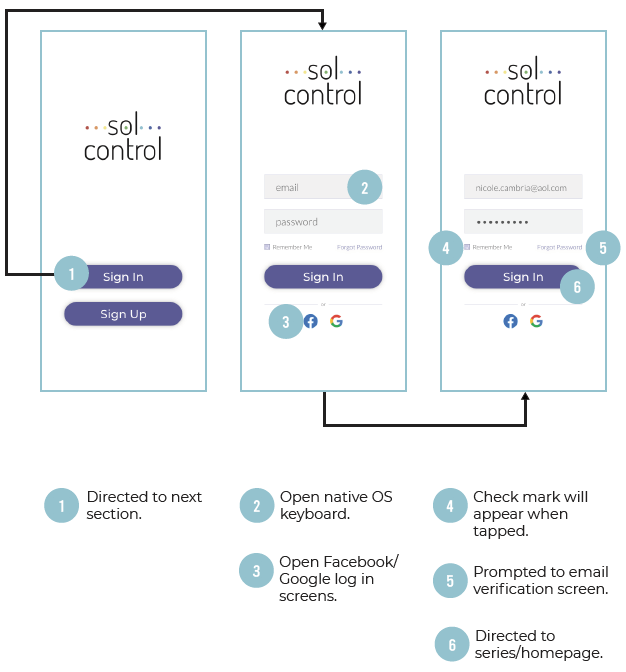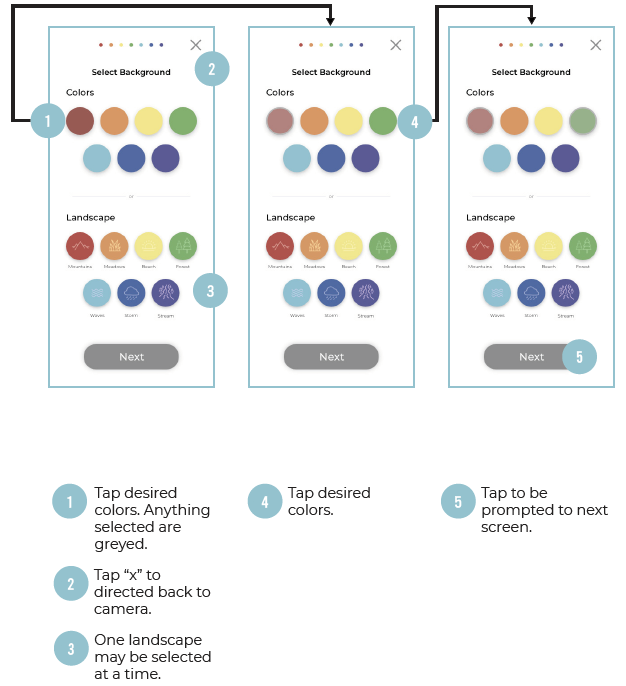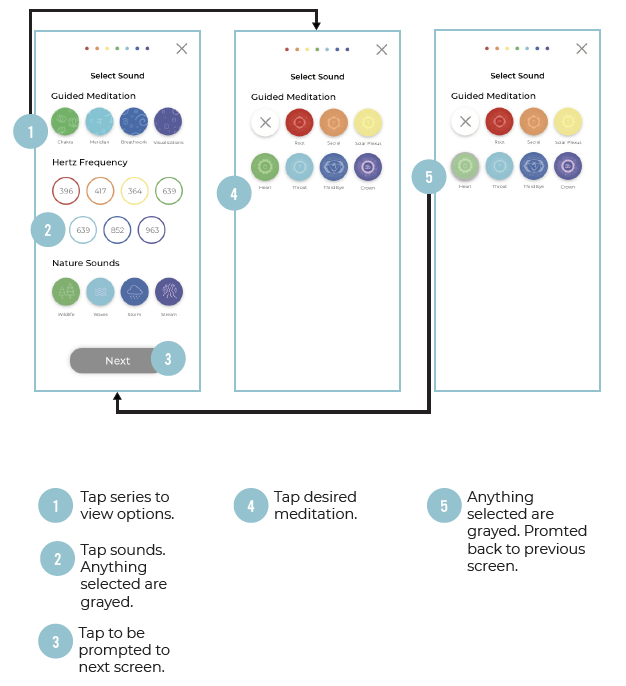 Projection-Mapping Sketches
Revised from the previous sketches, I reframed how the projector would respond during the meditation in the user's space.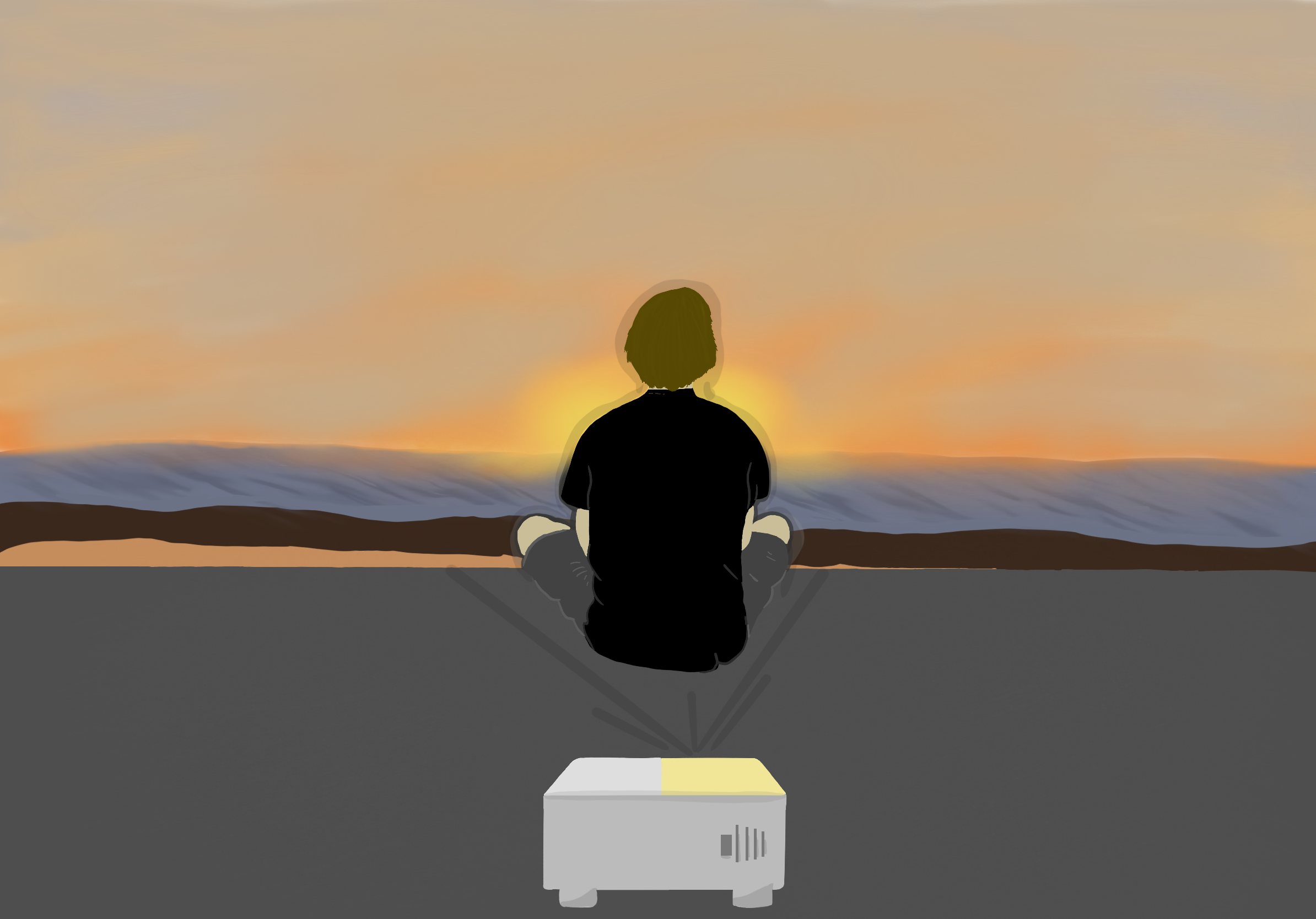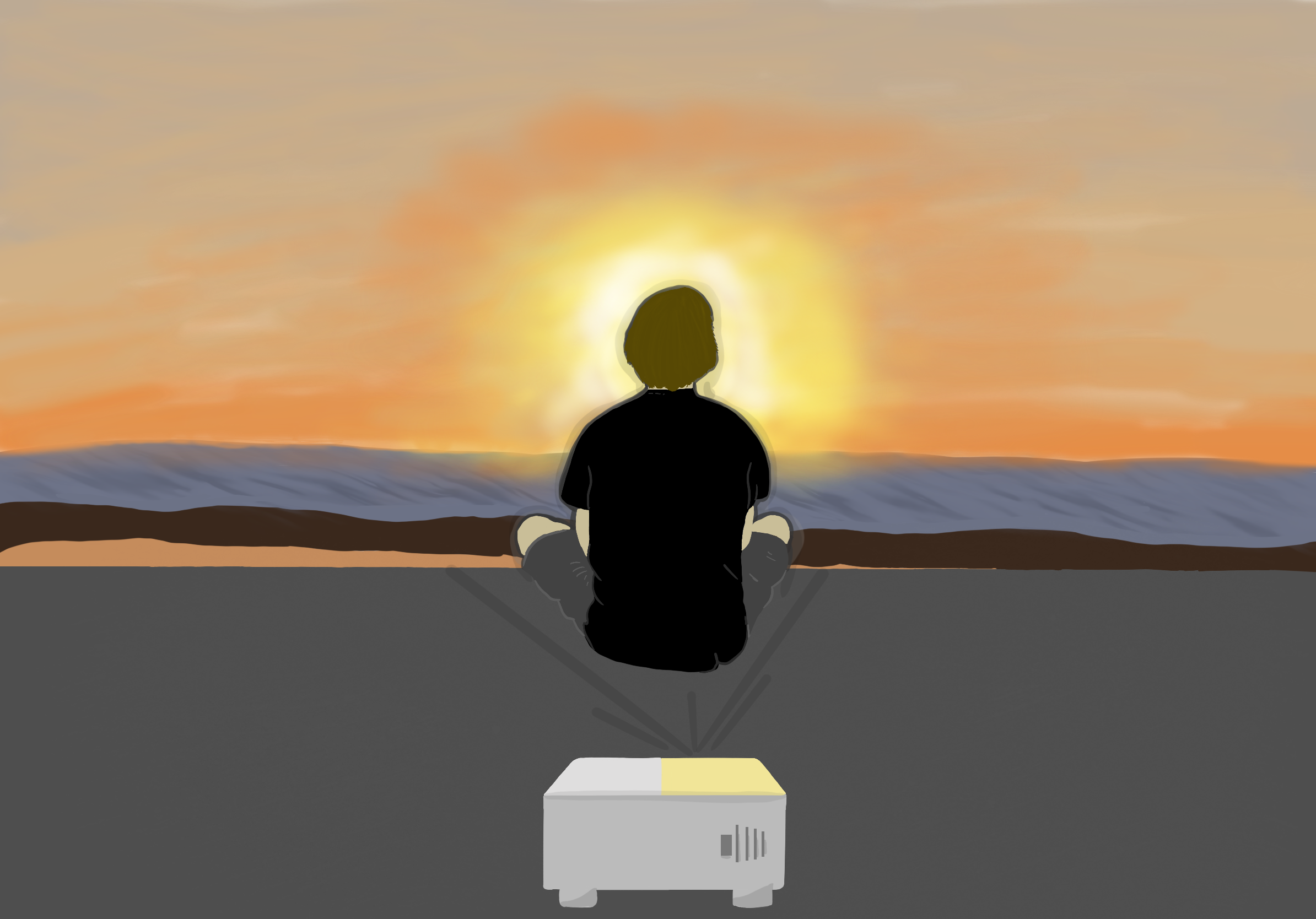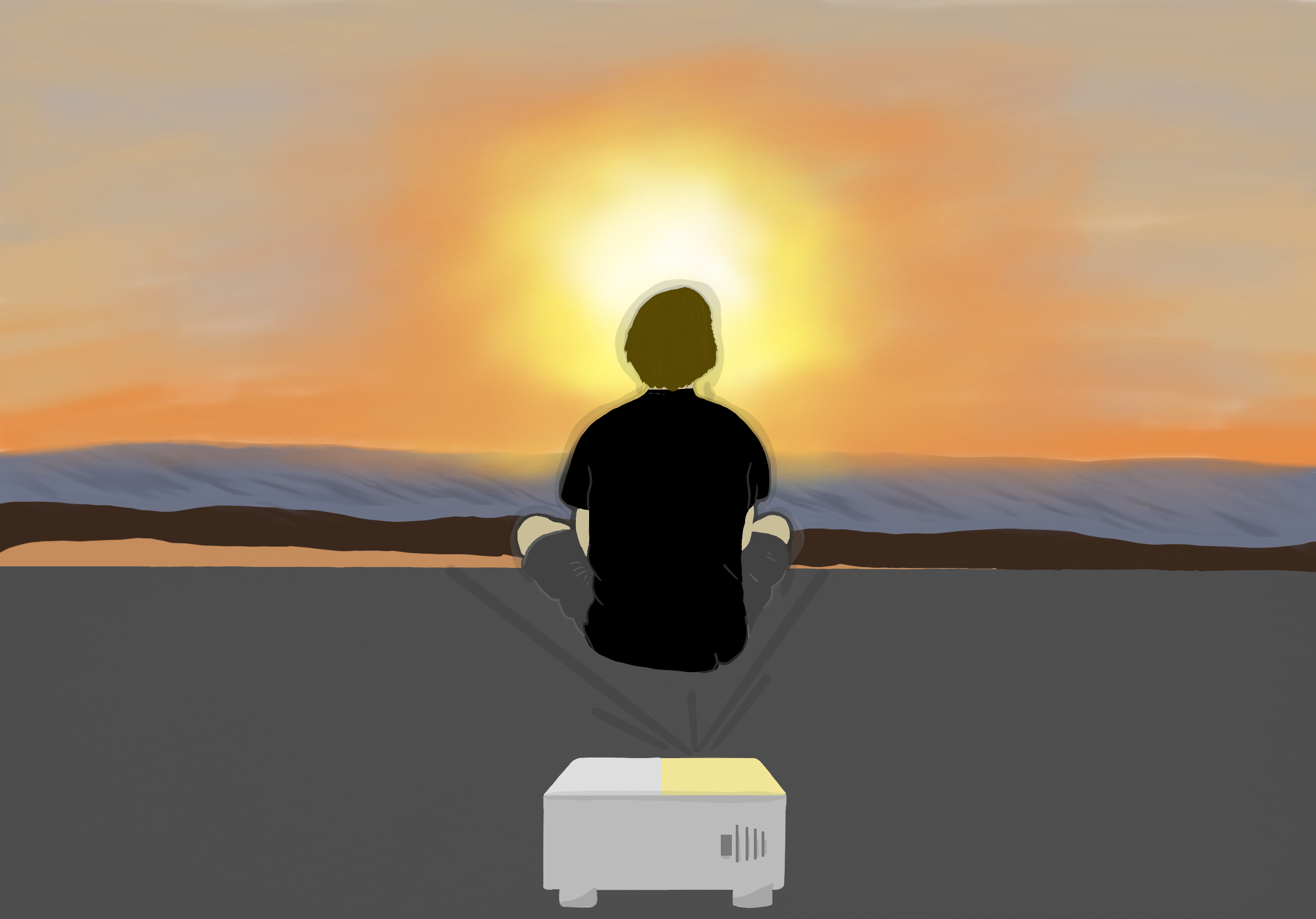 Projection-Mapping Usability Testing
Wizard of Oz Prototyping
I decided to implement the method of "Wizard of Oz Prototyping", which in simplest terms allowed me to control what was going on in the back end to portray to the participants that it was a fully functioning prototype.
Participants were given the task to choose a meditation, set up the meditation, and show how they would interact with the projection-mapped space and the watch portion of the app.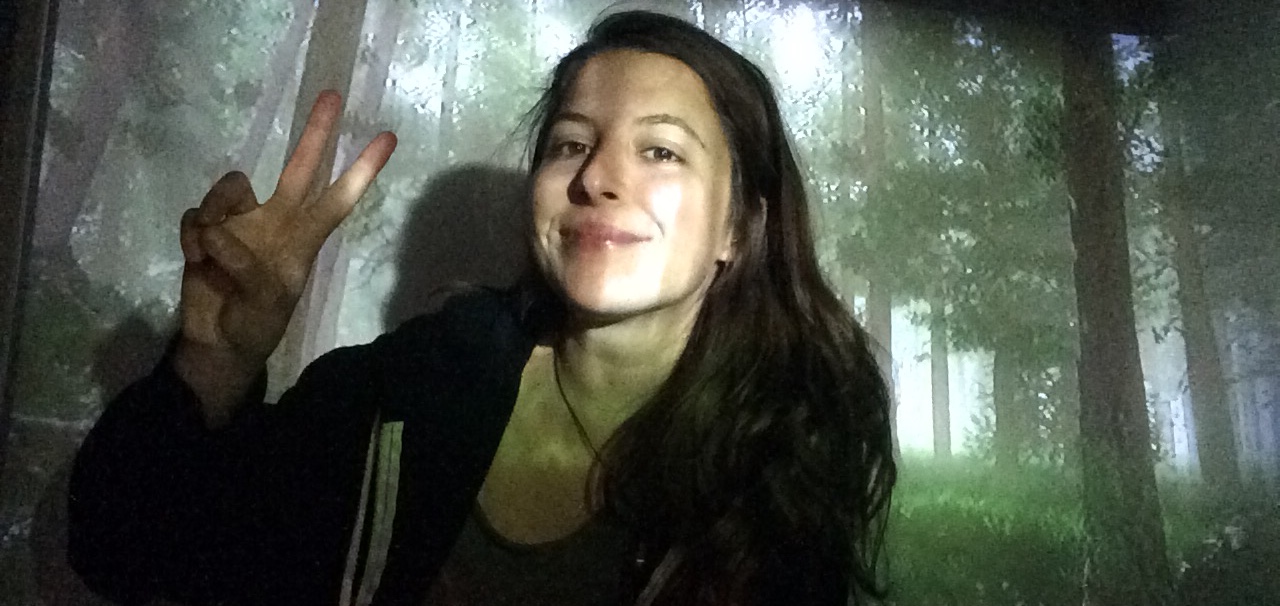 This is me before testing, making sure everything was set up according to plan.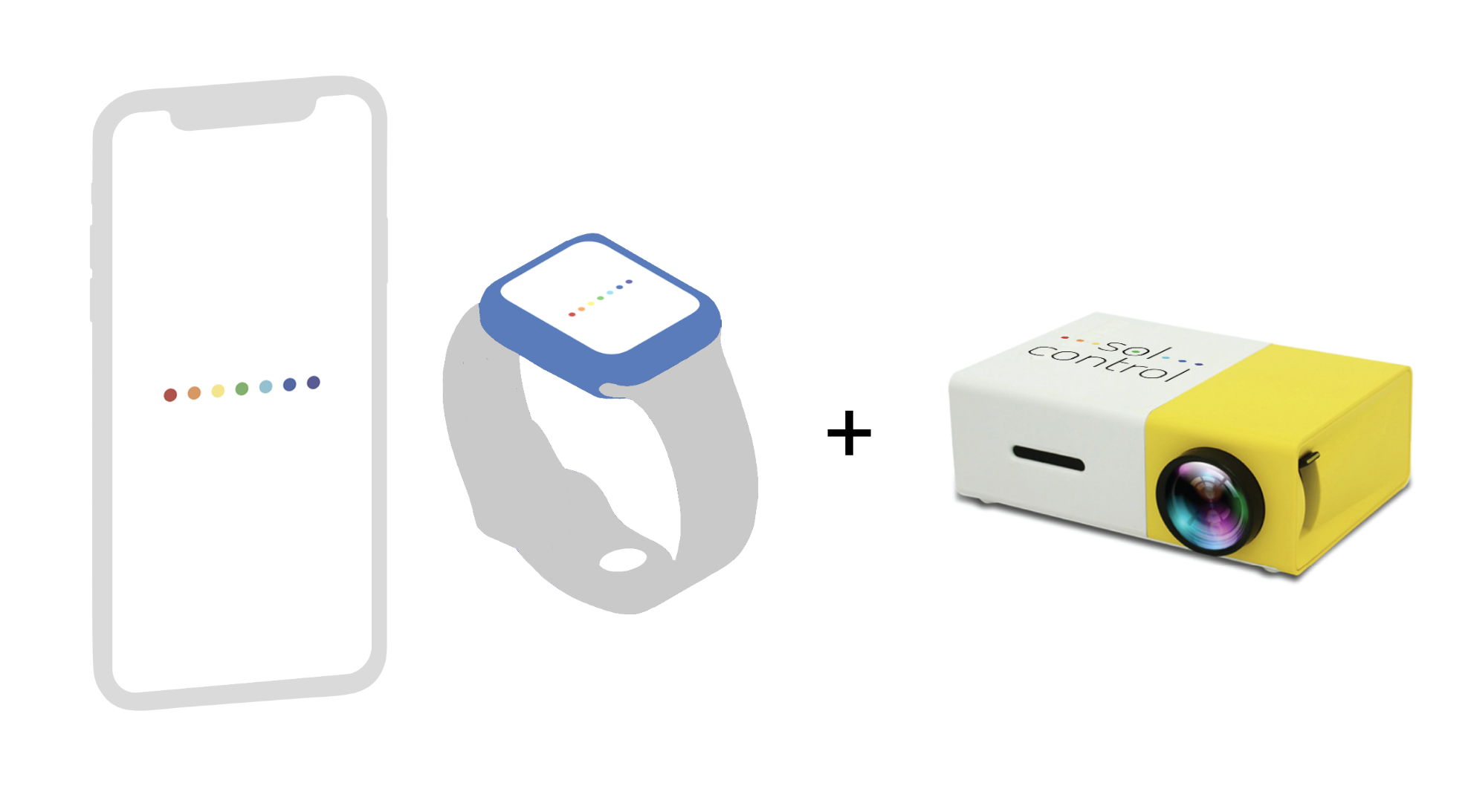 Augmented reality, projection mapping and biometric data are implemented to amplify the meditation experience.

Scheduling, customization, personalization and gamification are the tools used in the mobile app to set up the user for consistent meditation practices.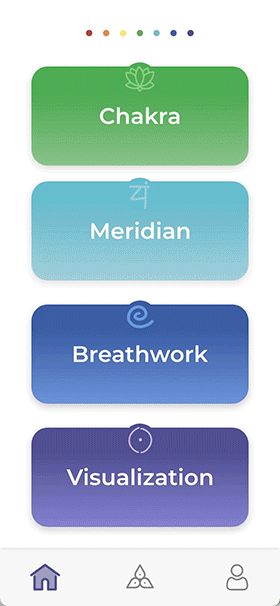 Choose from already curated chakra, meridian, breath work and visualization meditation series.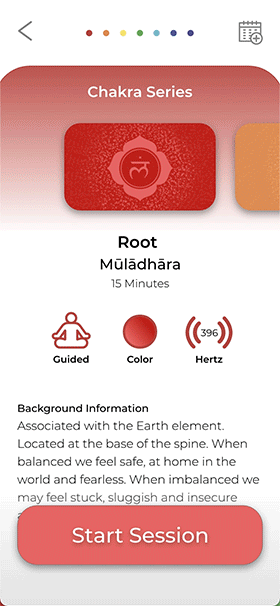 Schedule meditations in the app.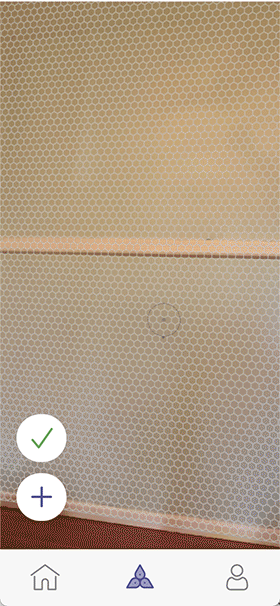 Explore the possibilities by creating your own meditation.
Choose colors or landscape, guided meditation, hertz frequency and nature sounds.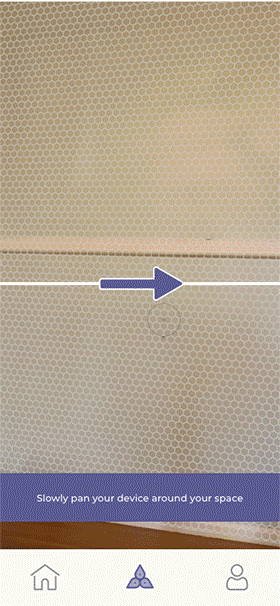 Scan your practice space using augmented reality to preview the projection.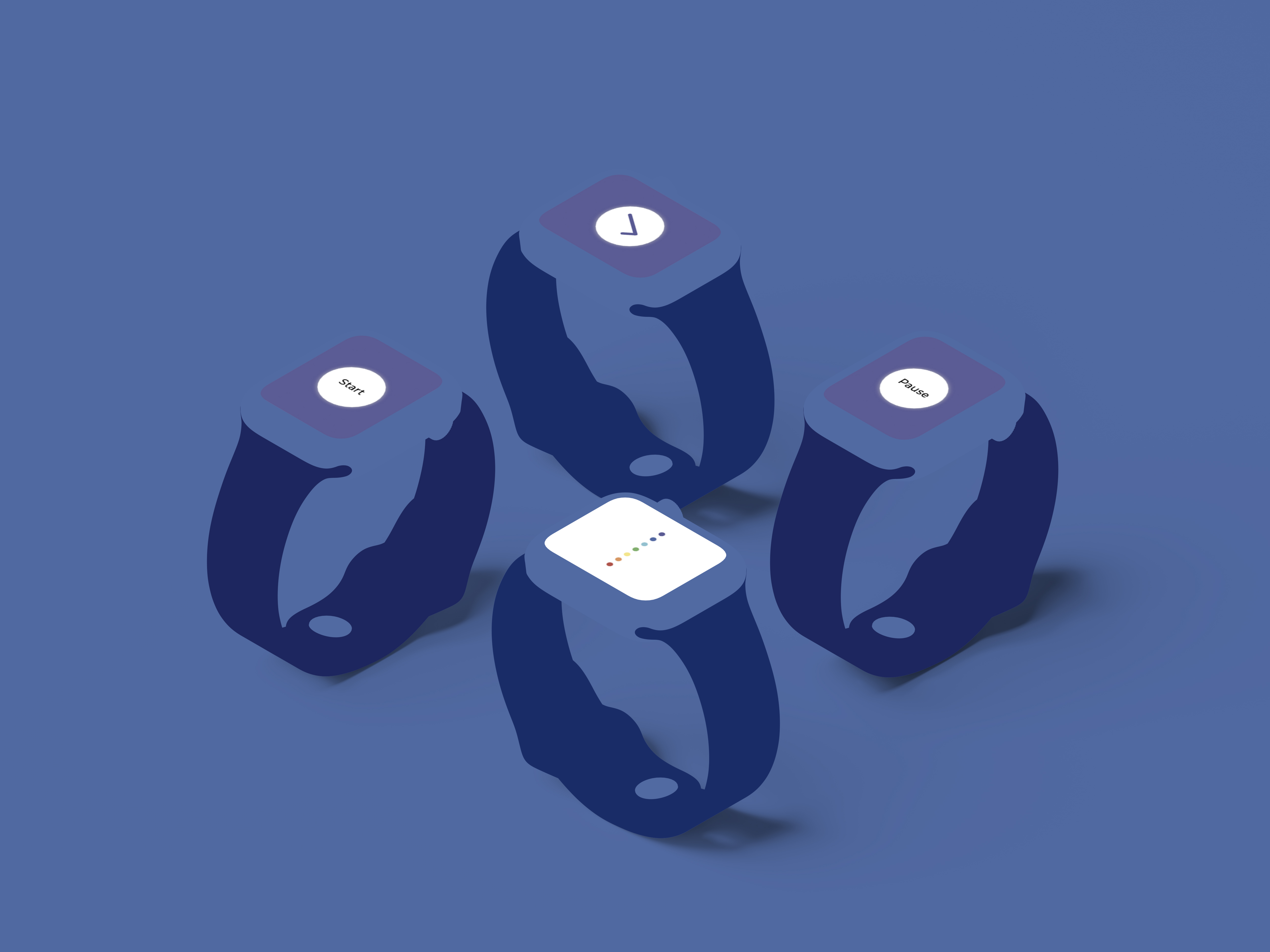 Biometric data is collected, calculating heartbeat to correspond with projected meditation visuals.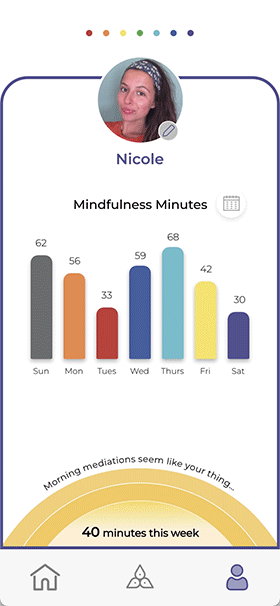 View your Mindfulness Minutes in real-time.
Reflections
For future work, I would like to create an Android version of the app as, "Android is forecasted to drive a revenue of USD 74 million in the meditation app market." (Singh, 2020) Designing for Android specifications would be a new challenge for me that I am excited to learn about. I would also like to create the augmented reality portion of the app to be fully functional to be able to test that further.
Sol Control was truly a journey for me as a User Experience Designer and researcher to fully immerse myself in creating a more mindful future using technology. I learned to separate my emotions from the design during user testing and let the user tell me what they needed. I constantly had to check in with myself during this process, understanding that this design was not for me, it was for the user. I think that was the biggest lesson and am grateful to have learned.
References
23 eye-opening college student stress statistics for 2021. What To Become. (2021, October 18). Retrieved August 2021, from https://whattobecome.com/blog/college-student-stress-statistics/.
VIDIC, Z., & CHERUP, N. (2019). Mindfulness in Classroom: Effect of a Mindfulness-Based Relaxation Class on College Students' Stress, Resilience, Self-Efficacy and Perfectionism. College Student Journal, 53(1), 130–142.
Ramsland, M. (2016). Organizing your workspace for a productivity boost. Crescendo Publishing.
Felicia. (2017, August 21). Mobile App Success Story: How Headspace Did It. App Samurai | Mobile Advertising Platform. https://appsamurai.com/mobile-app-success-story-how-headspace-did-it/.
Singh, P. (2020, December 11). Unhooking the Drama: Meditation App Statistics To Know in 2020. Appinventiv. https://appinventiv.com/blog/meditation-app-statistics/.